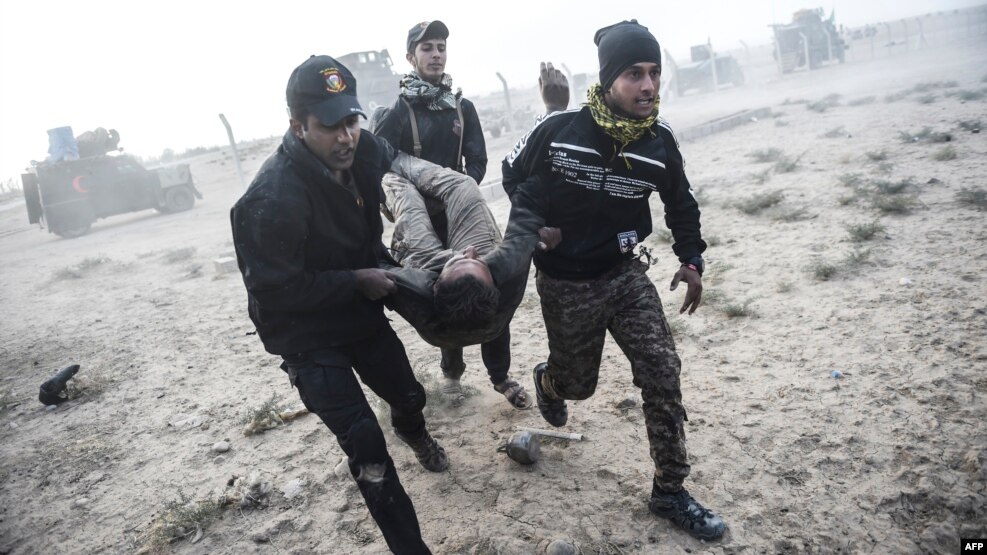 A fierce battle has begun within Iraq's northern city of Mosul as Iraqi troops have begun what appears to be a ground assault on a neighborhood of the city itself -- the first such attack in a 2-week-old operation to recapture Mosul from militants of the so-called Islamic State (IS) group.
The battle began at dawn on November 1 as Iraqi government troops who advanced the previous day to within one kilometer of Mosul fired heavy artillery, tank shells, and machine guns at IS positions on the edge of Mosul's eastern Gogjali neighborhood.
Militants were responding with guided antitank missiles and gunfire in an attempt to block the Iraqi government advance.
Air strikes by the U.S.-led coalition were supporting the Iraqi government attack.
Militants were lighting piles of tires on fire, sending dark smoke into the air in an attempt to obscure the view of the city by aircraft.
Iraqi troops have been sending mortar fire into the industrial suburb on the eastern side of Mosul for days.
But an advance into Gogjali would mark the first time since 2014 that government forces have set foot in the city of Mosul itself.
Meanwhile, authorities from Iraq's northern Kurdistan region have detained a Japanese journalist who has been reporting about the battle.
Japanese government spokesman Yoshihide Suga confirmed on November 1 that freelance journalist Kosuke Tsuneoka had been detained.
Suga said Japanese authorities were trying to determine why he was being held.
Japan's Kyodo News agency reported that Tsuneoka was being held by Peshmerga fighters.
Based on reporting by AP, Reuters, Kyodo, and AFP