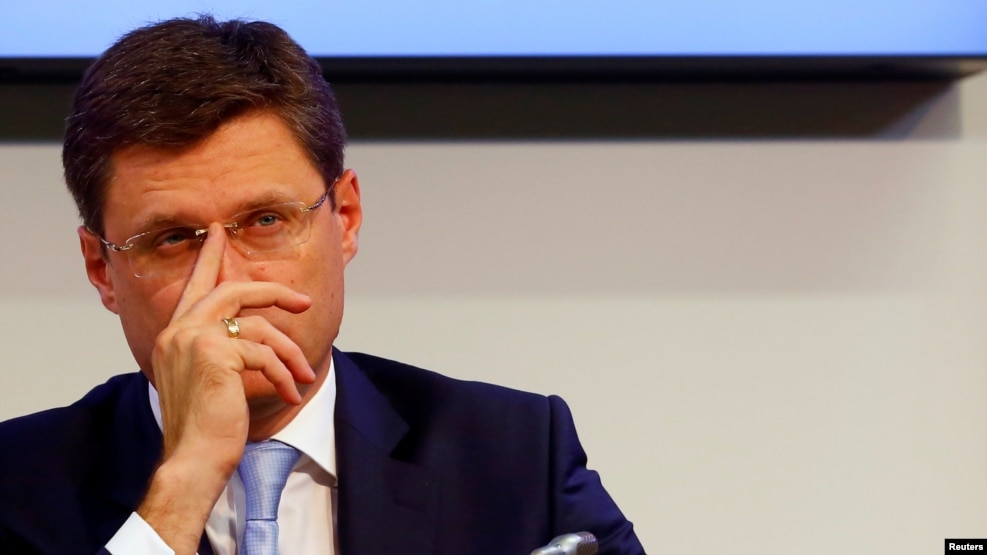 Ministers from the 15 members of the Organization of the Petroleum Exporting Countries (OPEC) have reached an agreement to cut their oil production by 1.2 million barrels a day.
The November 30 agreement, an attempt to boost oil prices by reducing a global supply glut, would lower the total output of the cartel to 32.5 million barrels a day beginning in January.
Saudi Arabia's Energy, Industry and Minister Khalid al-Falih said Tehran would be allowed to freeze its oil production at levels before international sanctions were imposed against Iran over its nuclear program.
He said Russia and other major non-OPEC producers also agreed to cut their oil production by 600,000 barrels per day.
Russian Energy Minister Aleksandr Novak said Moscow was ready cut its production "gradually by up to 300,000 barrels per day" beginning in the first quarter of 2017.
Novak said Russia's cuts would be gradual "because of technical issues."
He did not specify what Russia's production levels would be when it began the output cuts.
Novak also said Moscow expects other non-OPEC countries to match Russia's production cuts by reducing their output collectively by 300,000 barrels per day.
Novak also said officials from OPEC and non-OPEC countries have agreed to meet within 10 days for further talks on coordinating their cooperation under the agreement.
Qatari Energy Minister Muhammad Salih al-Sada said the proposal was for the meeting to take place in Doha on December 9.
Venezuelan Oil Minister Eulogio del Pino said non-OPEC countries that signaled their readiness to cooperate with OPEC's production cuts included Kazakhstan, Oman, and Mexico.
However, Kazakh government officials declined to immediately comment on the deal.
Oil prices surged dramatically on news of the deal, with crude futures rising by 8 to 9 percent within 15 minutes of the announcement to over $50 per barrel.
Higher global oil prices are seen as critical for countries like Russia and Iran whose national budgets depend heavily upon revenue from oil exports.
Oil industry analysts warned that if the November 30 deal collapses, global oil prices are likely to fall by as much as 20 percent to under $40 per barrel.
The agreement was reached at a meeting of OPEC ministers in Vienna that was overshadowed by regional geopolitics, with Saudi Arabia and Iran jostling for economic and regional advantages.
Tehran has been rushing to rebuild its oil-export capacity since its landmark nuclear deal with world powers led to a lifting of international sanctions against Iran.
Saudi Arabia said after the Vienna meeting that it was prepared to accept "a big hit" on its own production in exchange for Iran's agreement to freeze its output at presanctions levels.
With reporting by Reuters, AP, AFP, dpa, Interfax, and TASS