As Moldova's presidential election heads for a runoff vote on November 13, pro-EU candidate Maia Sandu has become the target of increasing smear attacks by supporters of rival pro-Moscow candidate, Igor Dodon.
The attacks include a high-ranking leader of the powerful Moldovan Orthodox Church casting doubts on Sandu's morality because the candidate, 44, is neither married nor a mother. The church is part of the Russian Orthodox Church seated in Moscow, which is a strong supporter of the Kremlin.
Bishop Marchel, who heads the Moldovan Orthodox Church in the country's second-largest city of Balti, issued a statement November 4 saying Sandu's "attitude toward Christian morality...seems to diverge from normal principles."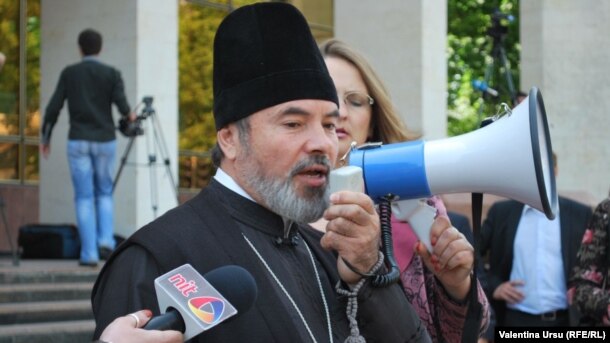 That sparked an angry response from the candidate, who has previously stated her support for family and traditional values.
"I have never thought being a single woman is a shame," she told the weekly Ziarul de Garda. "Maybe it is a sin even to be a woman?"
The statement by the bishop ramps up what has been clear support for Dodon from key leaders of the Moldovan Orthodox Church but which had not previously turned into personal attacks on Sandu's character.
On October 28, church head Metropolitan Vladimir publicly backed Dodon in a sermon. It marked the first time in years that the church had waded into electoral politics at this level.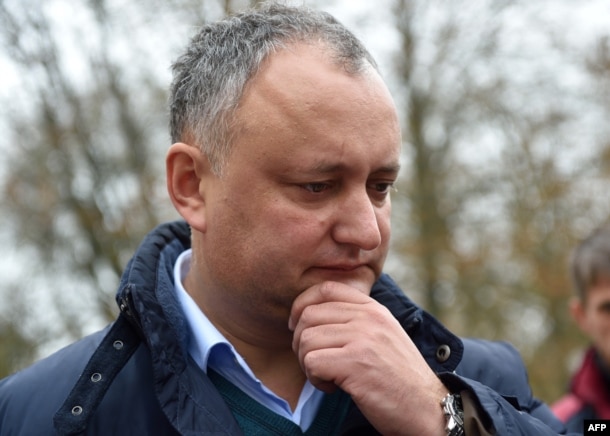 Moldovans are overwhelmingly Orthodox Christian, but the Moldovan Orthodox Church competes for influence in the country with the Bessarabian Orthodox Church, which is part of the Romanian Orthodox Church seated in Bucharest. Leaders of the Bessarabian Orthodox Church have not publicly commented on the election.
The flyers, which have been distributed in many Moldovan cities, declare "Maia Sandu will hand over a devastated country to the refugees, the homosexuals, and those who want to unite it with Romania." The leaflets reportedly have been printed in all of the languages most spoken in Moldova: Moldovan, Romanian, Russian, and Gagauz.
Dodon told reporters on November 6 that his party has nothing to do with the anonymous leaflet campaign. The leaflets do not bear an obligatory notice that they have been approved as campaign material by the Justice Ministry.
The presidential contest in Moldova is widely seen as pitting those who support closer integration with the European Union against those who want to expand relations with Russia. Dodon, a former economy minister, has said Moldova must rebuild trade and economic ties with Moscow.
The smear tactics follow months of campaigning in a race that saw nine candidates compete in the election on October 30 but which is now down to just the two strongest contenders -- from the pro-Russia and pro-EU camps. Both have repeatedly launched harsh attacks on their rival's policies, accusing one another of lying, cheating, and political cowardice.
Sandu has questioned Dodon's integrity as he has said he will use his experience as a former trade and economics minister to rapidly lift Russia's crippling economic embargoes on many of Moldova's key exports. She has demanded to know why Dodon did not seek to lift the embargoes when he held the position of economics minister from 2006 to 2009.
The president is being elected by direct popular vote -- a change from the past 16 years, in which the head of state was elected by parliament.
With reporting by RFE/RL's Moldovan Service