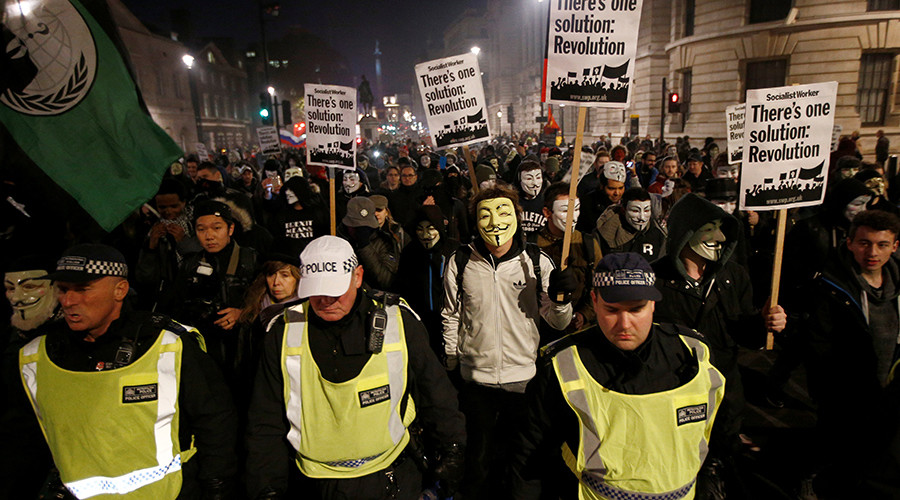 London police have arrested 53 participants of an annual Million Mask March on Saturday, who took to London streets up to protest inequality and censorship. While minor clashes broke out between some of the activists and police, the rally was largely peaceful.
The protesters, many of whom covered their faces with Guy Fawkes masks, marched from Trafalgar Square to Parliament, shouting anti-globalist slogans. Although, it did not come to major altercations between the activists and police, sporadic scuffles broke out in the Trafalgar Square and near Buckingham Palace.
…
RT's Ruptly video agency which followed the protest live showed activists being arrested for refusing to remove their disguise as ordered by police, who had enforced sections Section 60 and Section 60AA of the law providing them with the authority to "remove face coverings." The move slammed by protestors as excessive.
I read from Met Police feed that non removal of a face mask is considered "obstruction" - really? How does this work out? What Act is this?
20:42 - 5 ноября 2016
60 60AAA not in force until 9pm. Police have no right to insist on mask removal yet.
#
millionmaskmarch
#
MMM2016
#
London
Speaking to the agency, one of the protesters said that police officers were allegedly seizing activists' drinks.
For its part, police accused protesters of throwing fireworks at police and lightning flares. In its official statement, police, however, admitted that
"the majority of those taking part were peaceful,"
adding that no injuries were inflicted by the fireworks.
02:38 - 6 ноября 2016
·
City of London, London, United Kingdom
Praising the police efforts, commander BJ Harrington of the Met's Public Order Command thanked the demonstrators who
"conducted themselves in a peaceful manner,"
adding that
"only a small minority chose to breach the conditions and engage in criminality."