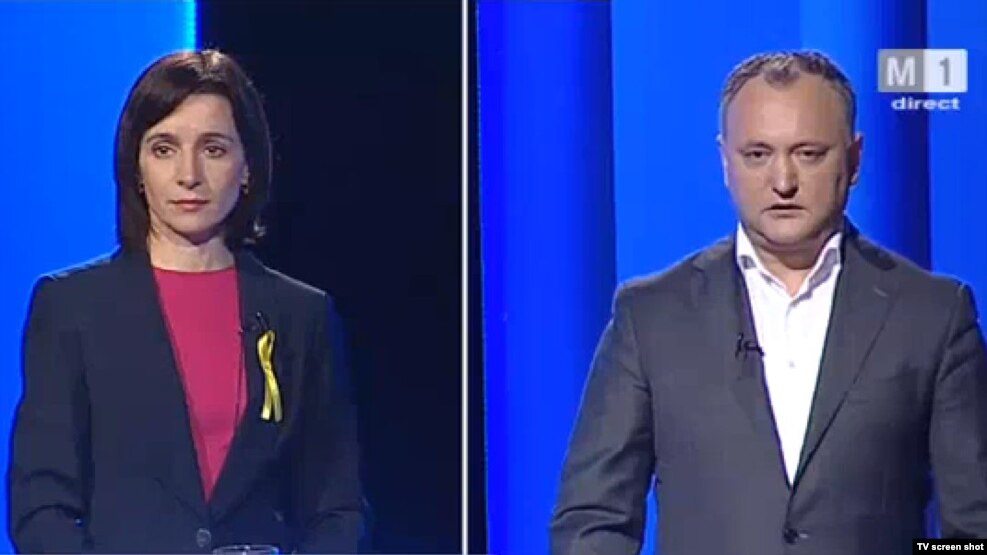 Moldovans have begun voting in a critical presidential election that will determine if the country moves closer to Russia or the European Union.
Igor Dodon, the Socialist party leader and former trade minister under a communist government, had about a 10-point lead over second-place finisher Maia Sandu in the first round of voting last month, but fell just short of gaining a majority to avoid the November 13 runoff.
Sandu, a former World Bank economist and education minister, has called for closer ties with the European Union and warned about the danger of a closer economic relationship with Russia, which is Moldova's leading energy supplier.
"Life in Moldova has become unbearable, our partnership with Russia has been destroyed, we lost access to a massive market," Dodon said in a recent campaign speech.
Dodon wants to reverse the country's move towards European integration, which included a historic association agreement signed in 2014 despite bitter opposition from Russia.
The vote is the first since 1997 in which the president will be elected in a national vote instead of by parliament.
Opinion polls have shown an eight- to 10-point lead for Dodon over Sandu in the runoff election.
Voting began at Moldova's 1,981 polling stations at 7 a.m. local time. There are also dozens of polling stations open in foreign countries.
Hundreds of international observers are in Moldova to monitor the voting process.
The country of 3.5 million is one of Europe's poorest, a situation only worsened by the turmoil that erupted in late 2014 when nearly $1 billion -- around 10 percent of the country's GDP -- disappeared from three banks.
Moscow fears Moldova moving closer to the European Union, similar to what happened in Ukraine in 2014.
Russia also has thousands of troops stationed in a disputed military presence in the mainly Russian-speaking territory of Transdniester, which broke away from Moldova following a short war that killed several hundred people.
Russia still keeps a contingent of troops ostensibly as peacekeepers in the territory.
Sandu has called for Russia to withdraw the troops.
Polls show the banking crisis sapped many Moldovans' enthusiasm for European integration. It also prompted the European Union and the IMF to suspend financial aid.
Earlier this week, however, the IMF approved nearly $180 million of loans for Moldova ahead of the presidential runoff election that could see the former Soviet republic move closer to Europe or tilt toward Russia.
The Washington-based fund cited what it said was Moldova's improving economy and government reforms to strengthen the banking sector.
First preliminary results are expected early on November 14.
With reporting by RFE/RL's Moldovan Service, Reuters, and TASS