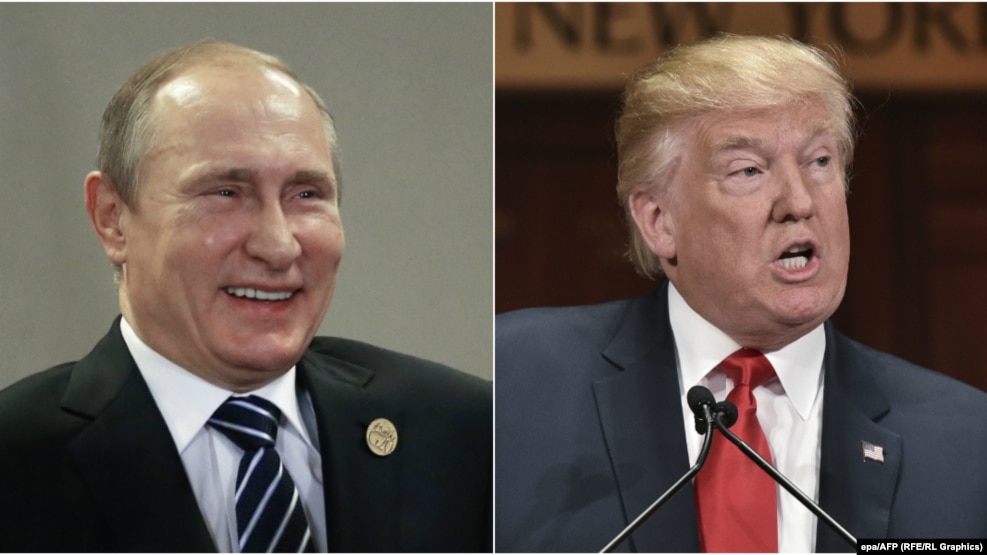 MOSCOW -- As the news of Donald Trump's upset victory in the U.S. presidential election rolled into Russia, there was jubilation among many allies of President Vladimir Putin's Kremlin -- which has demonized Hillary Clinton and seemed to root for the Republican candidate -- while some politicians predicted the stunning result would have little effect on badly strained U.S. ties.
State Duma deputies
broke into applause
after lawmaker Vyacheslav Nikonov broke the news to the lower parliament house on the morning of November 9: "Colleagues, three minutes ago Hillary Clinton acknowledged her defeat in the U.S. presidential election, and a second ago Trump began his speech as president-elect of the United States."
Trump won a race that had
more focus on Russia
than any since the Cold War and was very closely watched in Moscow, with the United States accusing Putin's government of stealing and releasing e-mails "to interfere with the U.S. election process" and the
Russian state media taking aim
at both Clinton and U.S. democracy as a whole.
Trump had praised Putin during the campaign and suggested he would improve relations, while Clinton vowed to be tough on Russia over its assertive actions in Ukraine, Syria, and elsewhere.
Flamboyant ultranationalist lawmaker Vladimir Zhirinovsky -- who recently said a Clinton win
would lead to nuclear war
-- told the Duma he would be
sending Trump a telegram
with the message: "Dear Donald, congratulations with this deserved victory, let grandma Hillary get some rest" and saying that "the majority of Russians are for Donald Trump."
He "expressed hope for joint work to lift Russian-American relations out of a state of crisis, and also to address pressing international issues and search for effective responses to challenges concerning global security," the Kremlin said.
WATCH: Putin Ready To 'Restore' Ties With U.S.
​
'A New Page'
Prominent pro-Kremlin lawmaker Aleksei Pushkov, a vocal critic of the United States,
tweeted
that a "reset" of Russia-U.S. relations is "unavoidable."
"Relations with Russia and Putin were a key issue in the election," Pushkov said. "Trump identified himself as anti-Obama. He will not leave everything as it is."
Putin came across as less certain and seemed to place the onus on Trump to take steps to lift ties out what he called a state of "degradation," saying "it is not our fault that Russian-American relations have reached such a condition."
Putin's spokesman, Dmitry Peskov, praised Trump for a victory speech in which the political novice promised to deal "fairly" with all other nations and "seek common ground, not hostility, partnership, not conflict."
"This is absolutely, phenomenally in line with the basic position that Putin himself holds: that, with the Russian Federation's national interests as the unconditional priority, we seek good relations with all countries that want to have them with us," Peskov said.
Sergei Mironov, who heads the pro-Kremlin Just Russia party and who on November 9 was placed on a European Union sanctions list over Moscow's aggression in Ukraine, was
quoted
by state radio station Vesti FM as saying that a "new page" in ties with Washington has been turned, and that the Kremlin has traditionally had better relations with the United States when a Republican is in office.
The ruling United Russia party
tweeted a press release
quoting a senior lawmaker, Sergei Zheleznyak, as saying the U.S. election results "show that people are tired of artificial confrontation."
"Despite all the intrigue and provocations which the current U.S. authorities created for Trump, people supported his intention to seek to resolve the serious problems that have accumulated in America and to move from confrontation to partnership with Russia and the world," Zheleznyahk said.
'No Watershed'
But Communist Party leader Gennady Zyuganov said Trump's election was no watershed, and made clear his party would continue to portray the United States as a global aggressor.
"I assure you that nothing serious will change: the times have changed, the technology, the weather, but the strategy of the Americans has not," he said. "That is: expansion, the assertion of their dominance, and in recent years -- global policies with the aim of subordinating the main strategic resources -- whether raw materials, information, or financial flows -- to themselves."
Russia's Culture Ministry
turned to Winnie the Pooh
for its assessment of the U.S. election outcome and its potential effect on Russian-U.S. ties, posting a tweet of the Soviet cartoon version of the British children's classic -- Vinny Pukh. It shows Clinton as Eeyore the donkey and Trump, as Piglet, befriending Pooh, the bear symbolizing Russia.
The caption parodies Pooh's song: Instead of tram-param-param, it reads: "Trump-param-param-param-param-pam-pam! The Ministry of Culture has made its choice :)"
ТРАМП-парам-парам-парам-парам-пам-пам!

Минкультуры свой выбор сделало:))

#

Союзмультфильму80

!
While many allies of Putin celebrated Trump's win, that response was far from universal.