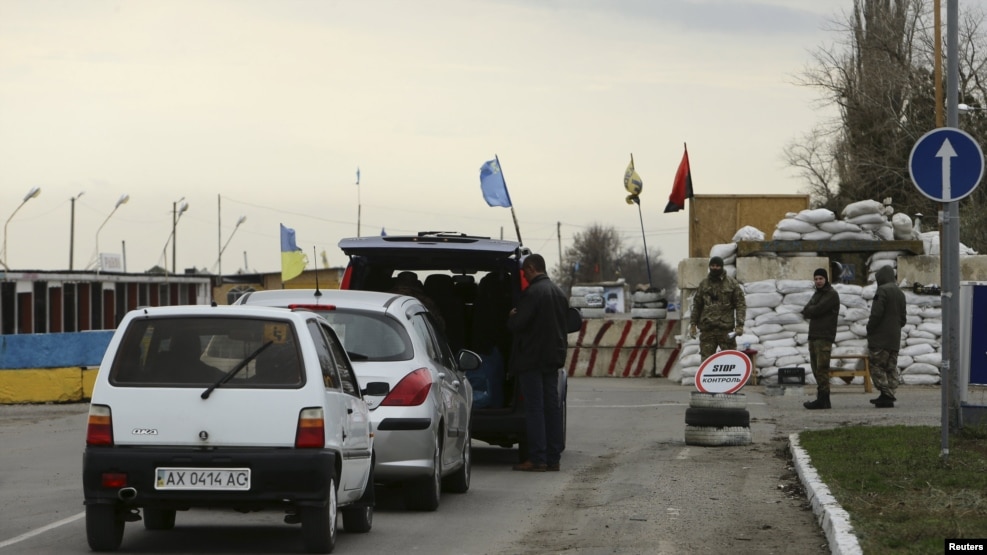 Ukrainian security agency said it had detained two soldiers along the administrative border with the Russian-annexed Crimea peninsula, and accused them of being deserters from the Ukrainian army.
The announcement November 21 came just two days after a similar claim was made by Russian officials about men it accused of being Ukrainian saboteurs. Together, the claims and counterclaims added to the swirl of accusations by both Moscow and Kyiv.
The Ukrainian security agency, known as the SBU, was quoted as telling Interfax that two men had been detained after crossing the border into Ukraine, at Chonhar.
The agency said the two had served in the Ukrainian army before deserting to Russia.
Russia's Defense Ministry told news agencies that the SBU had detained the two on November 20 on Crimean territory and then took them to Ukraine.
Two days earlier, Russian state-run television broadcast video of two men being interrogated, identifying them former officers of the Ukrainian armed forces.
It said they were arrested last week, a claim Ukraine's Defense Ministry called "another fabrication."
Since Russia annexed Crimea in 2014, a de-facto border has been set up on the Ukrainian peninsula with soldiers from both Russia and Ukraine watching each other warily.
There have also been sporadic incidents involving security agents or military personnel trying to cross the border, sparking conflicting claims of responsibility.

Based on reporting by TASS and Interfax