Counting continues in key states of Pennsylvania, Michigan, and Wisconsin
Democrats fall short in bid to take Senate
Republicans retain control of House of Representatives
WASHINGTON -- With all polls closed, Republican Donald Trump pulled ahead of his Democratic rival Hillary Clinton with major victories in Ohio, North Carolina, and Florida. Counting continued in Pennsylvania, Wisconsin, New Hampshire, and Michigan, all of which were too close to call.
With the divisive U.S. election campaign moving toward a nail-biting finish, Clinton eked out wins in New York, Illinois, and much of the northeast, along with closely fought Virginia, home state of her running mate, Senator Tim Kaine.
Along with later victories in New Mexico and Colorado, the wins kept her hopes alive. But with polls closed in all 50 states, Trump had a substantial lead in the race for the 270 votes needed to win in the Electoral College.
An increasingly nervous Clinton campaign looked anxiously at Pennsylvania, but her options for victory narrowed markedly. Wisconsin and Michigan --traditionally Democratic strongholds -- leaned toward Trump.
In the strategic state of Florida, a surge of early voting, mainly among Hispanic voters, led many experts to project it would likely go for Clinton. But the close vote tally defied predictions, and unofficial results projected her losing by just a couple of percentage points.
In Congress, Republicans retained control of the 435-member House of Representatives as well as the U.S. Senate, which Democrats had hoped to make a play for.
The rancorous campaign between the two candidates exposed deep fault lines in the U.S. political landscape, and whoever wins will face a profoundly divided electorate.
Clinton, 69, and Trump, 70, have savaged one another throughout the campaign, which some historians say have featured a level of mudslinging and overheated rhetoric unprecedented in modern U.S. history.
PHOTO GALLERY: American Voters Choose A President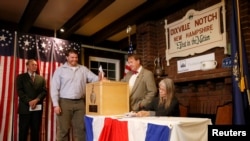 ​Exit surveys conducted around the country on election day by the Associated Press and the main U.S. TV networks showed more than half of voters cast their ballots with reservations about their candidate or because they disliked the others running.
The exit surveys also showed about four out of 10 voters believed trade among nations creates jobs, while another four out of 10 say it takes jobs from Americans.
Trump has railed against decades of U.S. trade policy and has energized working-class voters, while Clinton has historically supported U.S. trade deals, including as secretary of state.
She did, however, back off of her support for the Trans-Pacific Partnership trade agreement with Pacific Rim nations.
Trump, a wealthy New York businessman and former reality TV star who has never held elective office, has said Clinton would be jailed under his presidency over her controversial handling of e-mails during her tenure as secretary of state.
WATCH: Democratic candidate Hillary Clinton said she felt humbled after casting a ballot for herself in the U.S. presidential vote, and would do her best if elected the country's first female president. (AP)
​He captured the Republican nomination with controversial proposals like barring Muslims from the country and building a wall on the southern border to keep out immigrants from Central America and has vowed to upend politics as usual in Washington if he is elected.
Clinton is a former U.S. senator, secretary of state, and first lady who has vowed to build on the legacy of outgoing Democratic President Barack Obama and touted her decades of public service as qualifying her to lead the nation.
She is seeking to become the first female U.S. president and headed into Election Day with most opinion polls favoring her to beat Trump, her closest rival.
A record number of Americans -- roughly 46 million -- have voted early by mail or at polling stations, including in states like Florida, Nevada, and Colorado, where unusually strong turnout among Hispanic voters could give an edge to Clinton.
WATCH: RFE/RL's Russian Service asked Moscow residents who they expect to win the U.S. presidential election -- and what the new administration will mean for relations with Russia.
The candidate who wins a majority of the 538 electors under the country's
Electoral College
system should succeed Obama, the country's 44th president and the first African-American to hold that post.
WATCH: The bitter electoral battle left some voters feeling the issues weren't properly addressed. (AP)
​Trump, who has said the election was being "rigged" against him, has previously refused to say whether he would accept the results of the vote if they are not in his favor, raising the specter of a postelection challenge should he lose.
Prior to Election Day, there were concerns about potential difficulties voters might face in casting their ballots.
But while voters and civil rights groups reported long lines, isolated cases of malfunctioning equipment and some harassment at polling places, fears of widespread violence and problems did not materialize.
WATCH: As the world waits for the results of the U.S. presidential election, RFE/RL's Ukrainian Service asked citizens of Ukraine how they would cast their votes if they could take part.
​With reporting by AP, ABC, AFP, and McClatchy News