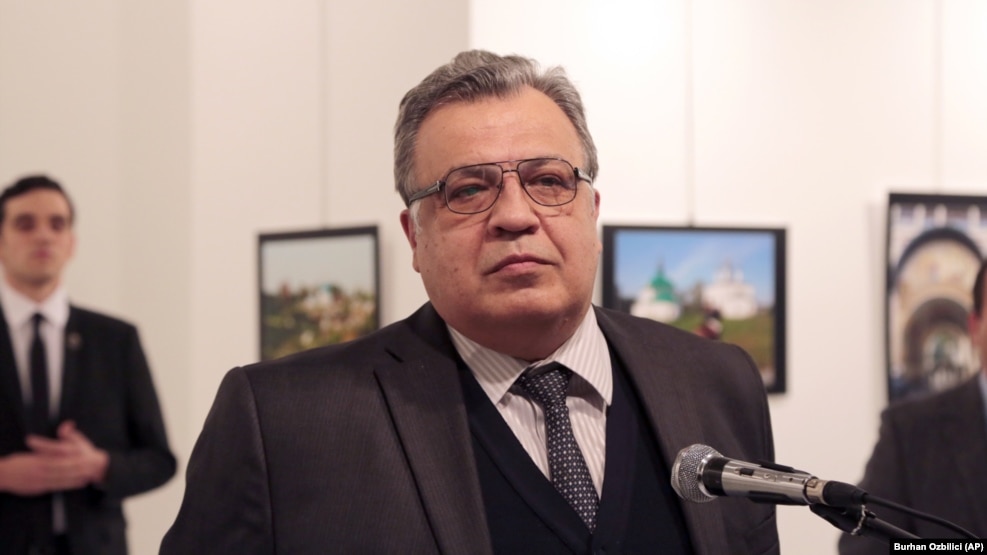 A gunman wearing a suit and tie has shot Russia's ambassador to Turkey as he was giving a speech at an art gallery in Ankara, yelling "don't forget Aleppo." Russia's Foreign Ministry said the diplomat later died of his wounds.
Ambassador Andrei Karlov was speaking at the Center for Modern Art, at an opening of an exhibit featuring Turkish photographs of Russia, when the man opened fire with a handgun on December 19.
Video of the incident showed the man, dressed in a suit and tie, yelling that the shooting was "payback for Aleppo" -- a reference to the Syrian city where hundreds of thousands have been under bombardment by Russian and Syrian forces.
Foreign Ministry spokeswoman Maria Zakharova
told reporters
in Moscow that Andrei Karlov died not long after the shooting.
"We regard this as a terrorist act," Zakharova said. "Terrorism will not win and we will fight against it decisively."
NTV said three other people were wounded, and that Turkish police fatally shot the gunman, who appeared to be the sole attacker.
Karlov was speaking at the Center for Modern Art, at an opening of an exhibit featuring Turkish photographs of Russia.
Video shot by audience members showed a man wearing a suit and tie and brandishing a gun, yelling first in Arabic and then in Turkish as he stood by a microphone in the gallery.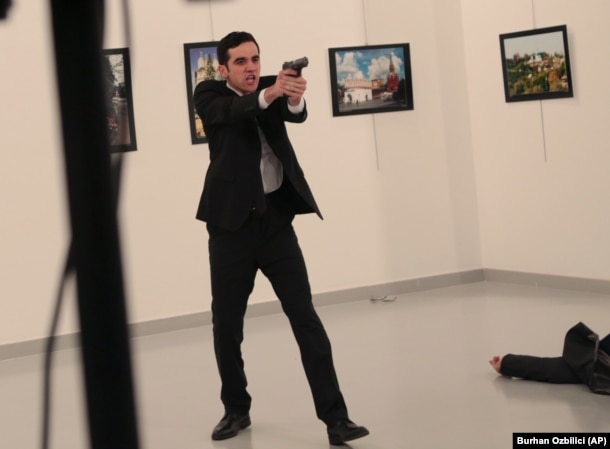 "Allahu akbar! We are those who have promised [Prophet] Muhammad to wage jihad. Allahu akbar! [This] payback is for Aleppo. [This] payback is for Syria. [This] payback is for Aleppo. [This] payback is for Syria," he said in Arabic.
"Allahu akbar" is a commonly heard Arabic phrase meaning "God is great."
"Don't forget Aleppo! Don't forget Syria! Until they are safe, you will not taste safety!" the man then added in Turkish. "Go back, go back, only death will take me from here. All those who have taken part in this cruelty will pay one by one!"
There was no immediate claim of responsibility and the identity of the gunman was not immediately clear, though Turkey's interior minister was quoted later as saying he was an officer for the Ankara-based riot police.
WATCH: The Russian ambassador to Ankara was shot dead in an attack at an art gallery in the Turkish capital. (AP still photo/Reuters video)
​
According to his official biography, Karlov was born in 1954 and joined the Russian foreign service in 1976. He became Moscow's chief diplomat in Turkey in July 2013.
The attack came a day before defense and foreign ministers from Russia, Turkey, and Iran were to meet in Moscow to discuss the conflict ongoing in neighboring Syria.
Since September 2015, Russia has waged a potent air campaign in Syria, seeking to bolster the regime of President Bashar al-Assad and defeat the myriad rebel groups seeking to overthrow him.
Iran, which has amicable ties with Russia, has also backed Assad, while Turkey has supported Assad's foes.
Ties between Moscow and Ankara have ebbed and flowed in recent years. Russia had sought to deepen economic relations with Moscow, including building ambitious undersea natural gas pipelines.
But Turkish President Recep Tayyip Erdogan has also pushed back against Russian President Vladimir Putin, and has viewed the Russian air campaign in Syria with suspicion.
In Moscow, a Kremlin spokesman said President Vladimir Putin had been informed about the attack.
In Washington, Secretary of State John Kerry condemned the attack, and offered condolences to Moscow.
"We stand ready to offer assistance to Russia and Turkey as they investigate this despicable attack, which was also an assault on the right of all diplomats to safely and securely advance and represent their nations around the world," Kerry said in a statement.
With reporting by Vesti, TASS, Reuters, and AP