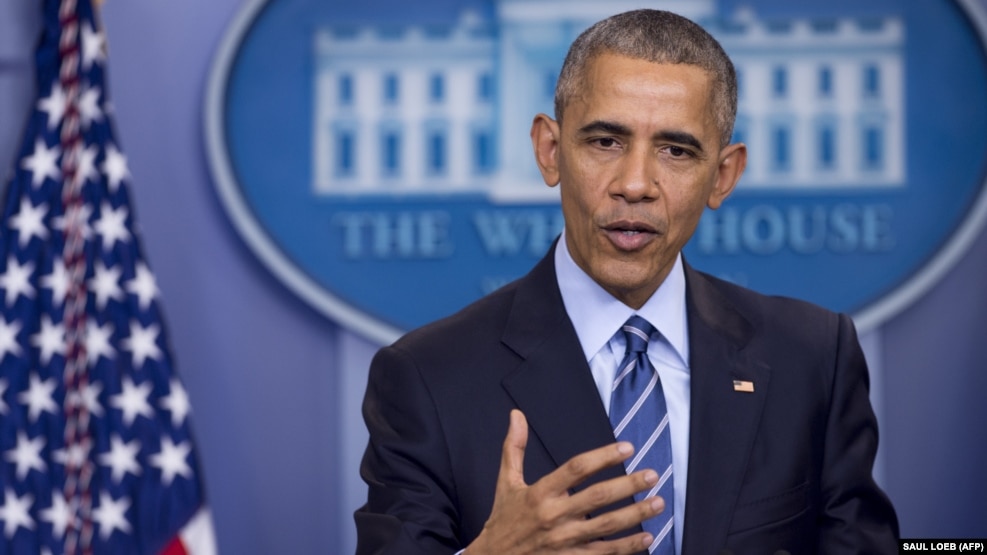 U.S. President Barack Obama says he talked directly to Russian President Vladimir Putin to "tell him to cut it out" when it came to Russian hackers trying to exert foreign influence in the U.S. presidential election process.
Speaking at the White House on December 16, Obama told reporters that he spoke to Putin about the issue when they met in China in September on the sidelines of a G20 summit -- a conversation that took place after intelligence showed that Russian hackers, under the direction of high-level Russian officials, had already hacked and leaked e-mails from Democratic National Committee computers and the campaign chief of Democratic candidate Hillary Clinton, John Podesta.
"What I was concerned about in particular was making sure that wasn't compounded by potential hacking that could hamper vote counting [and] affect the actual election process itself," Obama said.
"And so, in early September, when I saw President Putin in China, I felt that the most effective way to ensure that that didn't happen was to talk to him directly. And tell him to cut it out and there would be some serious consequences if he didn't," Obama said. "And in fact, we did not see further tampering of the election process. But the leaks through WikiLeaks had already occurred."
Asked whether he personally thinks Putin ordered Russian hacking attacks in order to help Republican President-elect Donald Trump win the election, Obama said: "Not much happens in Russia without Vladimir Putin. This is a pretty hierarchical operation. Last I checked, there's not a lot of debate and democratic deliberation, particularly when it comes to policies directed at the United States.
"We have said, and I will confirm, that this happened at the highest levels of the Russian government. And I will let you make that determination as to whether there are high-level Russian officials who go off, rogue, and decide to tamper with the U.S. election process without Vladimir Putin knowing about it."
Obama said he has also tried to "start creating some international norms about this to prevent some sort of cyberarms race, because we obviously have offensive capabilities as well as defensive capabilities."
He said his approach includes "putting some guardrails around the behavior of nation states, including our adversaries, just so they understand that whatever they do to us, we can potentially do to them."
Obama said there will be times when a U.S. response to Russian hacking attacks would be "directly received by the Russians and won't be publicized."
Earlier on December 16, the Kremlin challenged the United States to prove allegations of Russian meddling in the U.S. presidential election, saying that Washington should provide evidence or stay silent.
"It's necessary to either stop talking about this or show some proof already," Russian President Vladimir Putin's spokesman, Dmitry Peskov, told journalists.
Obama replied to the Kremlin's challenge by saying: "We will provide evidence that we can safely provide that does not compromise sources and methods."
Obama said a report by intelligence officials was being prepared and would be released at the end of his term in office and that he didn't want to undermine that investigation by releasing evidence now.
He also said the nature of cybersecurity requires that much of the evidence the United States has about Russian hacking must remain classified so that effective monitoring can continue in the future.
Obama said that in order for U.S. cybersecurity efforts to remain effective, "We don't want them to know what we know."
On December 15, in an interview with National Public Radio, Obama said: "I think there is no doubt that when any foreign government tries to impact the integrity of our elections...we need to take action and we will. At a time and a place of our own choosing. Some of it may be...explicit and publicized; some of it may not be."
The White House has grown increasingly explicit in suggesting Putin personally authorized the hacking and subsequent leaking of internal Democratic Party e-mails in an attempt to help Trump win the election against Clinton.
Media reports have quoted unidentified U.S. intelligence officials as saying that a CIA assessment determined Russia's aim was indeed to help Trump defeat Clinton.
Both the Kremlin and Trump have dismissed the allegation.
With reporting by RFE/RL correspondent Carl Schreck, Reuters, AP, and NBC News