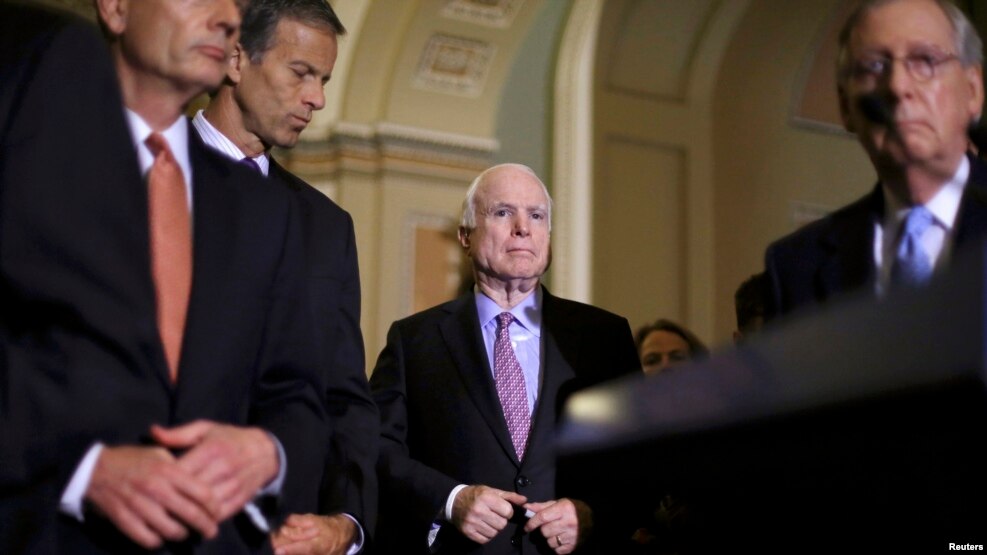 An influential Republican senator has called for a single, unified committee to investigate the depth of possible Russian hacking during the U.S. election campaign.
Senator John McCain (Republican-Arizona) told CNN on December 18 that having multiple inquiries probing the alleged hacking
would be inefficient
. He called for a single, select committee comprised of both House and Senate members.
"This is serious business," he said.
McCain is chairman of the Senate Armed Services Committee, which is set to begin investigating the extent of Russian hacking in January. Also taking up the probe will be the Senate's Intelligence and the Foreign Relations committees.
The Senate's leader, Mitch McConnell (Republican-Kentucky), has dismissed calls for a select committee, which would underscore the seriousness of the allegations.
McCain's call was echoed by the top Democrat in the Senate, Chuck Schumer (Democrat-New York), who said on December 18 that he, and two other members of the Senate Armed Services Committee -- Jack Reed (Democrat-Rhode Island) and Lindsey Graham (Republican-South Carolina) -- also supported the effort.
The U.S. intelligence community has concluded that Russian government-backed hackers intruded into Democratic Party servers and e-mail accounts.
Later news reports said Republican servers had also been breached.
And last week, The Washington Post
reported
the FBI shared the CIA's conclusions that Russian hackers intervened to help Republican Donald Trump win the presidential election.
President Barack Obama has
defended his administration's response
to the alleged Russian hacking, including his refusal to ascribe motive to the meddling.
Obama told reporters on December 16 that he confronted Putin at a summit in China in September, telling the former KGB chief to "cut it out." Intelligence agencies then detected a halt in intrusions.
The Kremlin has dismissed the reports of Russian hacking.
With reporting by CNN and The Washington Post