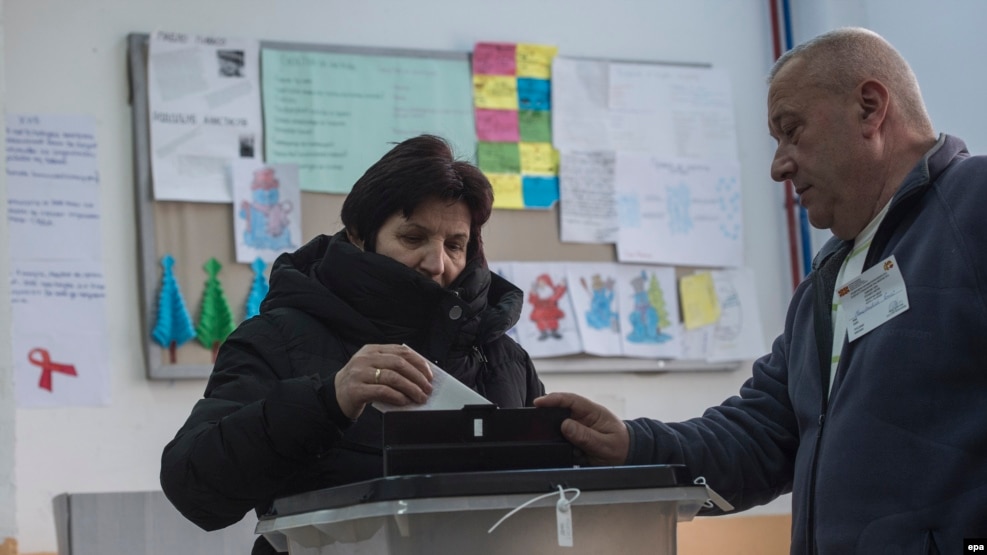 Macedonia's long-ruling conservatives, led by former prime minister Nikola Gruevski, have secured victory in a bitterly contested national election after a rerun vote at a single polling station did not give the opposition enough ballots to overtake the conservatives.
State election officials ordered the December 25 rerun in the village of Tearce, about 50 kilometers northwest of the capital Skopje, after the opposition Social Democrats complained of voting irregularities there during the original December 11 ballot.
Election results posted on the web of Macedonia's Election Commission show the Social Democrats won 245 votes in the rerun compared to 149 for Gruevski's VMRO-DPMNE party.
But the Social Democrats had needed to secure 307 votes in the village to gain a 50th seat at the expense of the VMRO-DPMNE.
Out of 714 registered voters in Tearce, only 402 cast ballots on December 25. The remaining eight votes were split among ethnic Albanian parties.
In the annulled December 11 vote in Tearce, 404 registered voters had cast ballots -- with the VMRO-DPMNE winning 91 votes compared to 87 for the Social Democrats. The rest were split among four ethnic-Albanian parties.
That suggests that many supporters of opposition ethnic-Albanian parties in the December 11 vote sided with the Social Democrats on December 25.
But it also suggests that supporters of the ethnic-Albanian DUI supporteed the VMRO-DPMNE instead.
Ahead of the rerun, Gruevski's party had been suggesting that ethnic-Albanians would vote massively for the Social Democrats.
The December 25 results confirm that Gruevski's VMRO-DPMNE party will have 51 seats in parliament compared to 49 for the Social Democrats.
Gruevski's long-time ethnic Albanian allies in the Democratic Union for Integration (DUI) will still control 10 seats, giving Gruevski the possibility of building a coalition with the DUI to create a 61-seat parliamentary majority – the smallest possible majority in the 120-seat parliament.
With reporting by RFE/RL's Balkan Service, AP, Reuters, and Balkan Insight