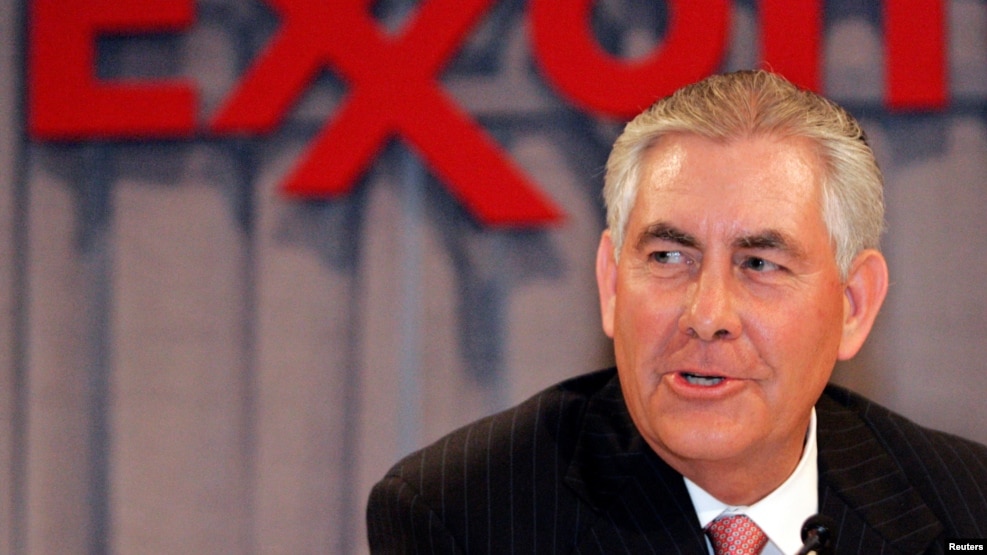 U.S. President-elect Donald Trump has formally announced that ExxonMobil chairman and CEO Rex Tillerson is his nominee to serve as secretary of state.
In a statement released by his transition team on December 13, Trump said that Tillerson's "tenacity, broad experience and deep understanding of geopolitics make him an excellent choice for Secretary of State."
"He will promote regional stability and focus on the core national security interests of the United States," the statement quoted Trump as saying.
In his own statement, Tillerson said he was "honored" by his selection and shares Trump's "vision for restoring the credibility of the United States' foreign relations and advancing our country's national security."
An unidentified member of Trump's transition team was quoted by the Reuters news agency as saying that Trump settled on Tillerson, 64, after the Texan was backed by several influential Republicans including former Secretary of State James Baker, former Secretary of State Condoleezza Rice, and former Defense Secretary Robert Gates.
Trump judged in making the pick that Tillerson could adequately address questions about his relations with Russia, another unidentified official said.
Reacting to the announcement, Russian Foreign Minister Sergei Lavrov expressed hope that the "pragmatism" he said had been voiced by Trump and Tillerson would become the "basis for mutually advantageous relations."
China's Foreign Ministry said Beijing looked forward to working with the new secretary of state to, in the words of a spokesman, "push forward greater progress of the bilateral relationship on a new starting point."
Trump had interviewed several potential candidates for the top U.S. foreign policy job following his election on November 8.
He takes office on January 20.
'Conservative Views'
The nomination is subject to approval by the U.S. Senate. In confirmation hearings, Tillerson is likely to face questions over his ties to Russia.
Influential senators, including John McCain (Republican-Arizona), have said those connections raise concerns.
"Vladimir Putin is a thug, bully, and a murderer, and anybody else who describes him as anything else is lying," McCain said earlier this month.
The ranking Democrat on the Senate Foreign Relations Committee, Benjamin Cardin of Maryland, said he is "deeply troubled by Mr. Tillerson's vocal opposition to U.S. sanctions on Russia following its illegal invasion, occupation, and annexation of Crimea, Ukraine, and his close personal relationship with Vladimir Putin."

"Mr. Tillerson has demonstrated he knows the corporate world and can put his shareholders' interests first, but can he be a respected Secretary of State that puts the national security interests of the American people first? It remains to be seen," Cardin said in a statement.​
Video Profile: Tillerson And Russia
Eliot Engel, a congressman from New York and the ranking Democrat on the Foreign Affairs Committee in the U.S. House of Representatives, said that Tillerson "is not qualified" for the job.
"Aside from his utter lack of diplomatic experience, Mr. Tillerson's cozy ties to Vladimir Putin and Russia would represent an untenable conflict at the State Department," Engel said in a statement. "Especially in light of mounting evidence that Russia interfered in our election to aid President-elect Trump, it's unthinkable that Mr. Tillerson should become our top diplomat.
Engel's Republican counterpart on the House committee, chairman Ed Royce of California, said Tillerson "has unique experience and comes highly recommended."

"I look forward to hearing from him on restoring U.S. leadership and countering threats to freedom and peace," Royce said in a statement.
There has been controversy over claims that Russia used computer hackers to interfere in the U.S. election, with the CIA reportedly concluding that Moscow's aim was to help get Trump elected over Democrat Hillary Clinton in the November 8 vote.

ExxonMobil has extensive drilling interests in Russia and Tillerson has criticized the U.S. sanctions imposed on Moscow over its interference in Ukraine, which have forced the company to abandon some projects.
Russian President Vladimir Putin decorated Tillerson with a state Order of Friendship medal in 2013 for what the Kremlin called a "significant contribution to strengthening cooperation in the fuel and energy sector."
Putin and Tillerson are reported to have first met in the 1990s when the oilman supervised an Exxon project on Sakhalin Island in the Russian Far East.
Their ties were further cemented in 2011 when Exxon signed a deal with Russian energy giant Rosneft to explore and drill in the Arctic and Siberia.
The deal, which Rosneft originally said could entail more than $500 billion in total investments, was put on hold due to the sanctions.

U.S. business representatives welcomed Trump's selection of Tillerson. The National Association of Manufacturers said it was "pleased that Rex will bring a business perspective to the State Department."

Environmental and human rights groups, meanwhile, denounced the nomination, citing Exxon's environmental record under Tillerson's guidance and its dealings with an array of governments.

"This sets a very alarming path for the new administration," the international advocacy group Global Witness said in a statement.
The deal, initially estimated to be worth as much as $3.2 billion, was put on hold due to the sanctions.
Like Trump, Tillerson has no political experience, but has said he holds conservative views.
Born in Wichita Falls, Texas, Tillerson has spent his entire business career at Exxon, which he joined in 1975.
Among others, Trump had previously considered former New York City Mayor Rudy Giuliani and 2012 Republican Party presidential nominee Mitt Romney for the post of secretary of state.
With reporting by Reuters, AP, AFP, and dpa