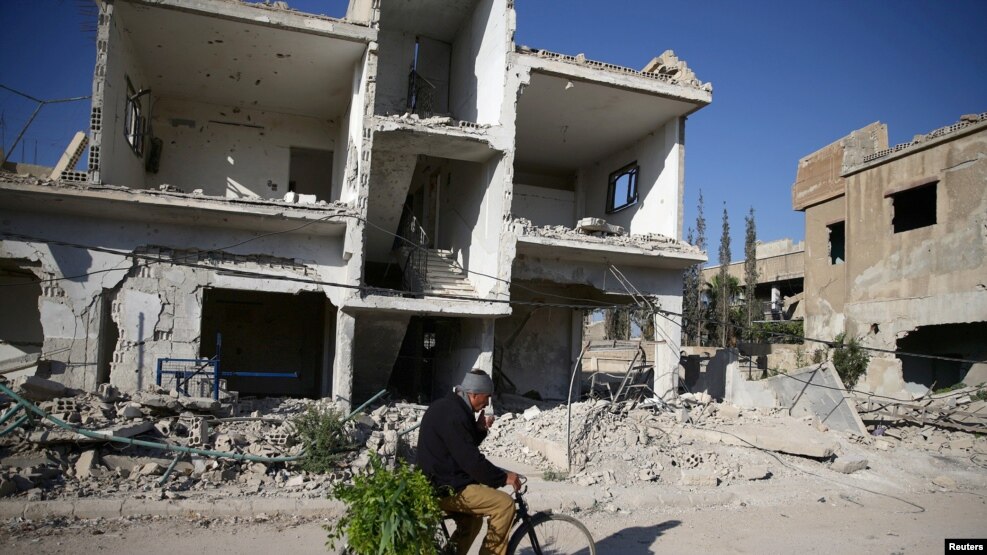 Russia urged the United Nations Security Council to quickly adopt a resolution endorsing its cease-fire agreement in Syria and throwing support behind a Moscow-led roadmap to peace.
Under a resolution drafted by Russia, the cease-fire and a late January meeting Moscow is arranging between the Syrian government and opposition forces, to be held in Kazakhstan, would become "an important part of the Syrian-led political process facilitated by the United Nations."
Russia worked on December 30 to galvanize international support behind its efforts by circulating draft resolutions between UN council members and negotiating changes they recommended, including adding a provision for "rapid, safe and unhindered" access to deliver humanitarian aid in Syria.
Russia's UN Ambassador Vitaly Churkin said the council will vote early on December 31 on the revised text, and he hopes members will support it unanimously. Western diplomats at the UN said they would study the proposal, but didn't want to be rushed into supporting it.
The cease-fire agreement, which appeared to hold in the first day on December 30 despite clashes around Damascus, is the latest effort to forge a breakthrough in a five-year conflict that has left over 300,000 dead and millions homeless while triggering a refugee crisis in Europe.
Brokered by Russia and Turkey, the cease-fire deal and peace process for the first time excludes the United States, although they have take pains to incorporate key elements of previous Syrian peace plans negotiated with the United States, such as calling for a "Syrian-led political process" that sets up a transitional government leading to elections.
While Russia and Turkey have at times boasted that their cease-fire and peace talks have proved more effective that previous deadlocked UN negotiations and UN-brokered cease-fires that quickly fell apart, Churkin insisted "there is no competition" between the talks in Astana and Geneva.
"As you know [UN Syrian envoy] Staffan de Mistura had trouble reconvening the talks, so Russia and Turkey obviously decided to give the United Nations a hand in pushing things forward, and this is what we see happening," he said.
Churkin said de Mistura has been in contact with the Russian government and "indicated his eagerness to help organize the Astana meetings...so we expect the United Nations to be fully involved in the preparations of the meetings."
If the Astana meetings are successful, Churkin said, "they could move on to Geneva as far as I am concerned, so we don't see any competition there or overlapping of the two processes."
Churkin said Russia and Turkey have made clear they want other countries to participate in the Astana meetings, which he said Iran is also helping to arrange.
Churkin said there are other very important players who are welcome, including Egypt, Saudi Arabia, Kuwait, and Qatar — and "we do expect the Trump administration after it comes into the White House on January 20 will be an important participant."
Turkish Foreign Minister Mevlut Cavusoglu also said on December 30 that the new U.S. administration is welcome to join the talks.
But he said Ankara would strongly oppose the involvement of Syrian Kurds, which currently hold a large swathe of territory in northeastern Syria and are moving to establish it as an autonomous federal region within Syria.
While violence continued to mar the cease-fire late December 30, Churkin said the Syrian government and seven rebel groups representing 60,000 fighters had signed onto the truce.
One powerful player in Syria has rejected the truce, however. The Islamist militia Jabhat Fateh al-Sham, formerly called the Nusra Front and affiliated with Al-Qaeda, said it will not join a peace process that allows Syrian President Bashar al-Assad's "criminal regime" to survive.
"The solution is to topple the criminal regime militarily," the group's spokesman said on December 30.
With reporting by AP, AFP, Reuters, dpa, TASS, and Interfax