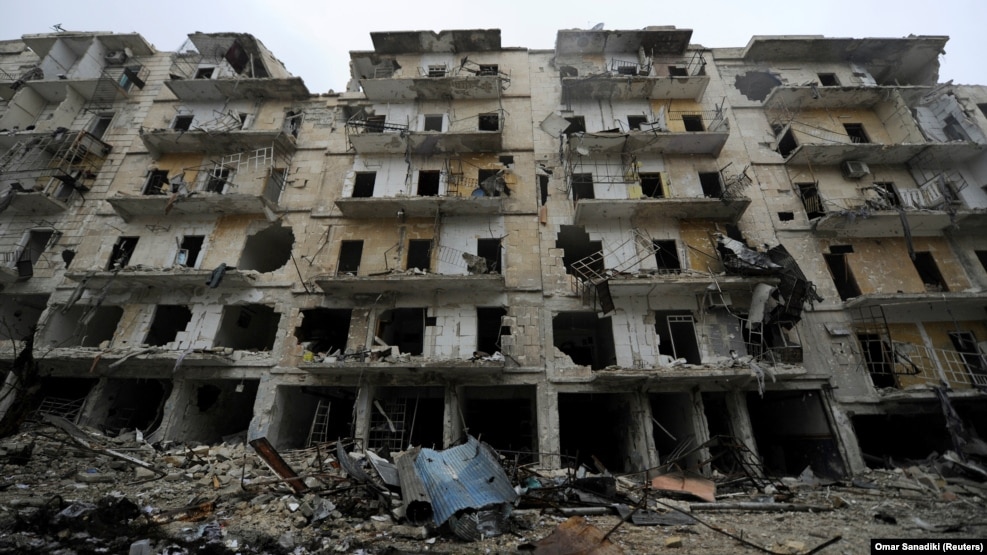 A deal to evacuate rebel fighters and civilians from Aleppo appears to have stalled, with fierce fighting and shelling reported in the shattered Syrian city as concerns about violence against civilians persisted.
The British-based Syrian Observatory for Human Rights confirmed shelling and "very intense clashes on every front line" between pro-government forces and rebels in the city's east.
Air strikes by Syrian government forces also hit the small pocket of territory still held by rebels, it said.
Syrian state television reported that rebel shelling of the government-held Bustan al-Qasr neighborhood had killed six people and wounded others.
A cease-fire was declared in Aleppo on December 13, but the planned evacuation of people from eastern Aleppo to rebel-held areas in northern Syria never materialized.
The Russian Defense Ministry said that Syrian government forces resumed their assault after rebels, in the ministry's words, broke the truce brokered by Turkey and Russia.
The ministry later said Syrian troops captured another neighborhood in eastern Aleppo, reducing the area controlled by rebels to 2 1/2 square kilometers, according to Interfax.
In Ankara, Turkish President Recep Tayyip Erdogan accused Syrian government forces of breaking the deal.
He said he would speak later with Russian President Vladimir Putin about the situation in Aleppo, which he described as "very fragile and complicated."
'Fragile And Complicated'
The comments came after Turkey's Foreign Minister Mevlut Cavusoglu accused Syrian President Bashar al-Assad's government and its allies of trying to scuttle the agreement.
"We see now that the regime and other groups are trying to obstruct this [deal]," he said. "This includes Russia, Iran -- forces supported by Iran -- and the [Syrian] regime."
Assad has been backed by Russian air strikes and an array of Shi'ite militias from Iran and Lebanon in his campaign to seize full control of Aleppo, which was the most populous city in Syria before the more than 5-year-old civil war.
In excerpts from an interview aired on December 14 by state-funded Russian channel RT, Assad accused Western countries of seeking a cease-fire in Aleppo to "save" what he called "the terrorists" -- a reference to rebels fighting against his government.
Meanwhile, Russian Foreign Minister Sergei Lavrov said he expected rebel resistance in eastern Aleppo to end "in the next two to three days."
German government spokesman Steffen Seibert said Russia was partly responsible for the destruction of eastern Aleppo.
"We know that this ruthless destruction of eastern Aleppo would not have been possible without massive military support from Russia," Seibert said. "Russia has not prevented the crimes of the last few days although it was within its power to do so."
WATCH: U.S. Attacks 'Shameless' Aleppo Assault
Nearly 6,000 civilians had left rebel-held districts over the previous 24 hours, the Russian Defense Ministry said on December 14.
It also said that 366 rebels had laid down their arms over the same period and moved out of rebel-controlled parts of the city.
Late on December 13, Russian UN Ambassador Vitaly Churkin said an agreement had been struck for rebel fighters to be safely evacuated from the city.
"The military activities in east Aleppo have stopped," Churkin told an emergency session of the UN Security Council, adding that the Syrian government had "established control" over the area.
Churkin spoke hours after the UN human rights office said it had received reports of pro-government forces in Syria entering homes in eastern Aleppo and shooting civilians "on the spot."
Execution-Style Killings
The UN human rights office said on December 13 that it had reliable evidence that in four neighborhoods 82 civilians, including 11 women and 13 children, had been shot.
Spokesman Rupert Colville said the atrocities were committed in recent days, adding that there could have been "many more" execution-style killings.
UN humanitarian spokesman Jens Laerke said it looked like "a complete meltdown of humanity in Aleppo."
Syria's UN ambassador, Bashar al-Ja'afari, denied allegations of any mass killings or revenge attacks and insisted that it was Syria's "constitutional right" to go after what he called terrorists.
"Aleppo has been liberated from terrorists and those who toyed with terrorism," Ja'afari said. "Aleppo has returned to the nation."
U.S. Ambassador Samantha Power said the Syrian government, Russia, and Iran bore responsibility for "the conquest of and carnage in Aleppo."
"Aleppo will join the ranks of those events in world history that define modern evil, that stain our conscience decades later," Power said, citing the 1988 Halabja chemical attack in northern Iraq, the 1994 Rwandan genocide, and the 1995 Srebrenica massacre during the Bosnian war.
With reporting by Reuters, AFP, AP, and dpa