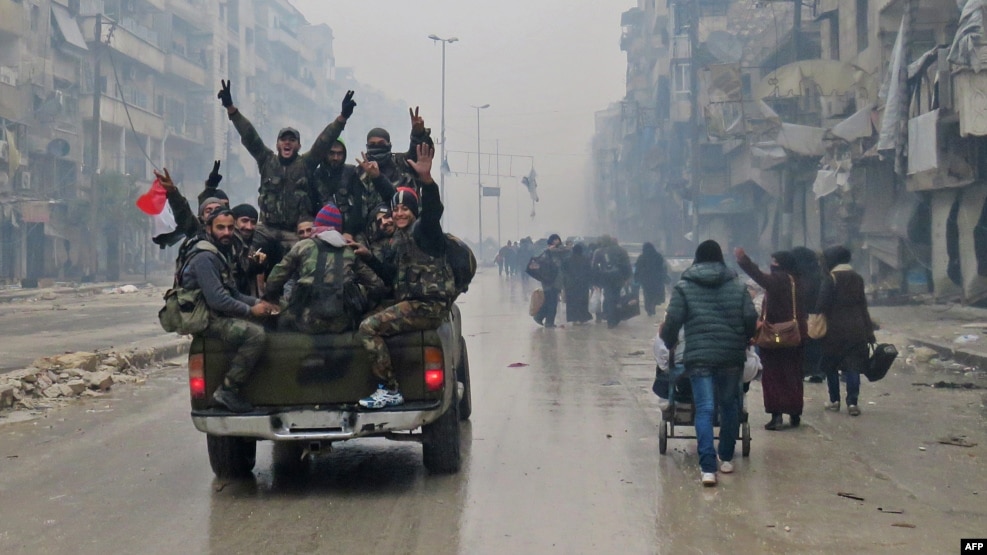 Reports say guns have fallen silent in Aleppo as the warring sides in the Syria conflict agreed to a new deal to evacuate the last rebel-held part of the city.
A cease-fire agreement to evacuate rebel fighters and civilians, brokered by Russia and Turkey, unraveled amid fighting on December 14.
But rebel sources said a new truce took effect and evacuations would take place on December 15.
Sources from the Syrian military and pro-government Shi'ite Muslim movement Hizbullah said preparations for the evacuations were under way.
The Britain-based Syrian Observatory for Human Rights later said that the first convoy of people requiring medical attention started to leave eastern Aleppo.
Meanwhile, Russia said its soldiers were preparing to lead rebels out of eastern Aleppo under orders from President Vladimir Putin.
The Defense Ministry said Syrian authorities guaranteed the safety of rebels and their families who will be evacuated toward the northwestern Syrian city of Idlib.
Russian soldiers will use drones to monitor how they are transported on 20 buses, accompanied by 10 ambulances, through a humanitarian corridor, the ministry said.
In other developments, Iranian President Hassan Rohani telephoned his Syrian counterpart, Bashar al-Assad, to congratulate him on the impending defeat of rebel forces in the battleground city of Aleppo, which Iranians are celebrating as a win over the United States.
"The victory in Aleppo...constitutes a great victory for the Syrian people against terrorists and those who support them," Rohani told Assad on December 14, according to his website.
The call came as hard-liners in Iran cast the Aleppo win as a victory over the United States and as new billboards sprung up around Tehran reading: "The fight against the United States has once again paid off. Aleppo is liberated."
Rohani said Iran would continue to back Assad until he has defeated all his opponents, some of whom have been backed by the United States.
"Iran remains at Syria's side until the final fall of the terrorists," he said. Both Iran and Syria call the rebel groups arrayed against them, including those backed by the West, "terrorists."
While celebrating the "victory" in Aleppo, Rohani called on Assad to allow humanitarian aid to now reach the citizens of Aleppo, and he offered to help arrange aid through the Iranian Red Crescent organization.
The Syrian leader reportedly responded that Iran had stood "on the side of the Syrian people and government in its most difficult moments, and we will never forget it."
Their celebrations came as a top United Nations official said Assad and his allies probably committed war crimes by killing hundreds of civilians in their brutal battle to retake Aleppo.
UN human rights chief Zeid bin Ra'ad Zeid al-Hussein said "the resumption of extremely heavy bombardment by the Syrian government forces and their allies on an area packed with civilians is almost certainly a violation of international law and most likely constitutes war crimes."
With just a small pocket of rebel resistance left in Syria's largest city, Tehran hard-liners said the offensive demonstrated Iran's growing clout in the region.
"The coalition between Iran, Russia, Syria, and Hizbullah led to the liberation of Aleppo and will next liberate Mosul," said Yahya Safavi, top foreign policy adviser to Iran's Supreme Leader Ayatollah Ali Khamenei.
Safavi, a former head of the Islamic Revolutionary Guards Corps (IRGC), neglected to mention that the campaign to liberate Mosul from the Islamic State extremist group receives critical backing from U.S.-led air strikes and advisory forces in Iraq.
Safavi said the Aleppo battle sends a clear message to U.S. President-elect Donald Trump, who has vowed to take a tougher line with Iran.
"The new American president must accept the reality that Iran is the leading power in the region," Safavi said, according to the IRGC's Sepahnews website.
Iran has not committed its regular army to the Syrian conflict, but the IRGC has played a crucial coordinating role.
Thousands of Iranian volunteers -- many of them motivated by a desire to protect Shi'ite shrines in Syria -- are believed to have fought on the front lines.
With reporting by AFP, dpa, AP, and Reuters