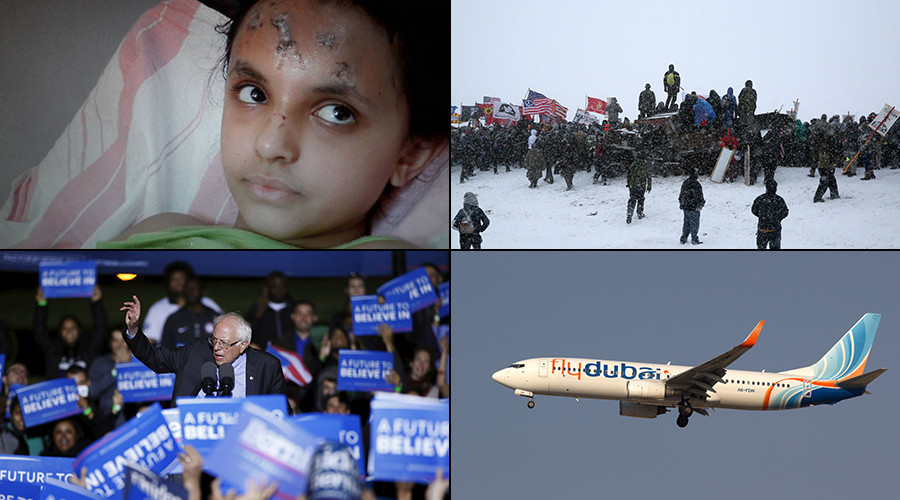 Stories that do not fit into the MSM narrative or are deemed damaging to the image of western governments and their allies often garner little to no media coverage. Here are some important stories extensively covered by RT but ignored by the MSM in 2016.
How civilians suffered in western Aleppo
Based on unverified accounts of spurious groups and anti-government activists, the MSM reporting drew a grim picture of the regime killing its own people, and the Stalingrad-like images of devastation from militant-held neighborhoods became the face of the largest Syrian city. Meanwhile, the western part of the city was never shown.
RT became one of the few foreign broadcasters that actually had correspondents risking their lives on the ground in Aleppo, who brought underreported militant shelling of populated areas, the suffering of the people and stories of their daily lives to the world's attention.
What Podesta emails on WikiLeaks actually contained
The news received huge coverage, but quickly focused on claims that Russia was behind the alleged hacking of the email server to propel Clinton's Republican rival, Donald Trump, into the White House.
What Bernie Sanders rallies really looked like
Bernie Sanders gave the Democratic favorite Hillary Clinton a real battle for the presidential nomination. It is, however, speculated that the Vermont senator could have done even better if his campaign events received more attention in the American media.
How Yemen was devastated by Saudi coalition strikes
With attention of the world firmly glued to the Syrian conflict, the military campaign carried out by Saudi Arabia and its allies against the Houthi rebels in Yemen was largely left out of the spotlight.
What caused US nationwide prison strike
More than 24,000 inmates in at least 40 prisons from over two dozen states, including California, Florida, Alabama, Michigan and South Carolina, refused to follow orders in September, failing to report for work and causing prisons to go on lockdown.
Why Snowden called new UK snooping law 'scary'
It requires internet, phone and communication app companies to store customers' records for 12 months and allow authorities to access them on demand.
That data could be anything from internet search history, calls made or messages sent, and will be available to a wide range of agencies, including the Department for Work and Pensions as well as the Food Standards Agency.
#Flydubaigate: Why airline pilots may fall asleep mid-flight
After a FlyDubai flight carrying Russian tourists from the UAE to Rostov-on-Don crashed in March while trying to land in difficult weather conditions, killing 62 people, RT offered a platform for whistleblowers from several Gulf States-owned airlines to speak out about the abuses they suffered on the job for reporting fatigue.
After the first Flydubai whistleblower contacted RT, some 60 people claiming to work or have worked for that airline and Emirates contacted us with allegations of pilot fatigue and airline intimidation.
da "rt.com"