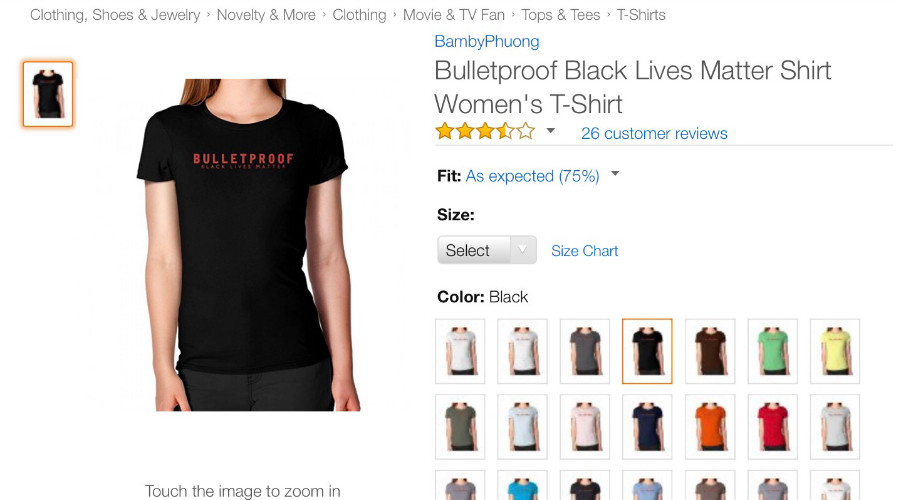 The Fraternal Order of Police (FOP), which is the largest police union in the US, has asked online retailer Amazon to pull Black Lives Matter shirts that it deemed "offensive" a day after Walmart acquiesced to its request.
FOP president, Chuck Canterbury, appealed to Amazon CEO Jeff Bezos in an open
letter
, in which he asked the online retailer to
"prohibit the use of the Amazon name and website for the retail"
of shirts and sweatshirts with slogans
"Bulletproof", "Black Lives Matter"
and
"Hands Up, Don't Shoot,"
which Canterbury described as
"offensive"
and the spread of
"urban myths."
At the same time, he praised the company for "demonstrating the reality of the American dream" and its philanthropic work and expressed his hope that it shares "FOP's goal of increasing the bonds of trust between the men and women of law enforcement and the communities they serve."
"I wanted to let you know that my members are very upset that you and Amazon are complicit in the sale of this offensive merchandise,"he added, warning that it could "damage your company's good name amongst FOP members and other active and retired law enforcement officers."
He also expressed sadness over the fact that some "third party sellers are making money by exploiting racial divisions" in the US.
However, Amazon has not yet issued any official statements on the matter while the shirts are still
available
for sale on its website.
No statements from the Black Lives Matter movement have yet been issued.
Speaking to the Guardian, Canterbury said that the issue is relevant because of the "amount of violence demonstrated at Black Lives Matter marches and the fact that eight police officers had been assassinated while protecting Black Lives Matter protests," referring to an incident, in which five officers were killed by a gunman in Dallas, and an ambush in Baton Rouge that claimed the lives of three more officers.
Although the gunmen in these incidents were not affiliated with the Black Lives Matter movement, their actions were apparently inspired by anti-police rhetoric. "It happened as a result of the rhetoric of different BLM groups," he said.
At the same time, FOP's executive director, James Pasco, told CNN that "the bulletproof thing goes to the new assertiveness of some violence prone individuals to take action directly against police,"referring to the shirts with a relevant slogan and adding that the FOP members "find it offensive for that reason."
The FOP president sent the letter to Amazon just a day after Walmart, which was also selling similar shirts online, decided to pull the "bulletproof" merchandise from its sale and issued a statement, in which it said that had heard "concerns from customers."
Earlier, Walmart also provoked a wave of public indignation in social media by selling Black Lives Matter shirts on Walmart's Marketplace, a digital store where third-party vendors can sell their goods through Walmart.
Meanwhile, Glenn Morelli, the owner of Connecticut-based Old Glory Merchandise, which is the third-party vendor selling the controversial shirts both through Walmart and Amazon, told CNN that he had already decided to remove the merchandise from his site.
"It wasn't a big seller at all," he said. "The Blue Lives Matter sells more than the Black Lives Matter or bulletproof shirts combined. We don't like to offend anybody."
In the meantime, Canterbury said FOP members would continue to exert pressure on retailers to drop similar merchandise, "until Black Lives Matter makes statements that they do not approve of violence."
da "rt.com"