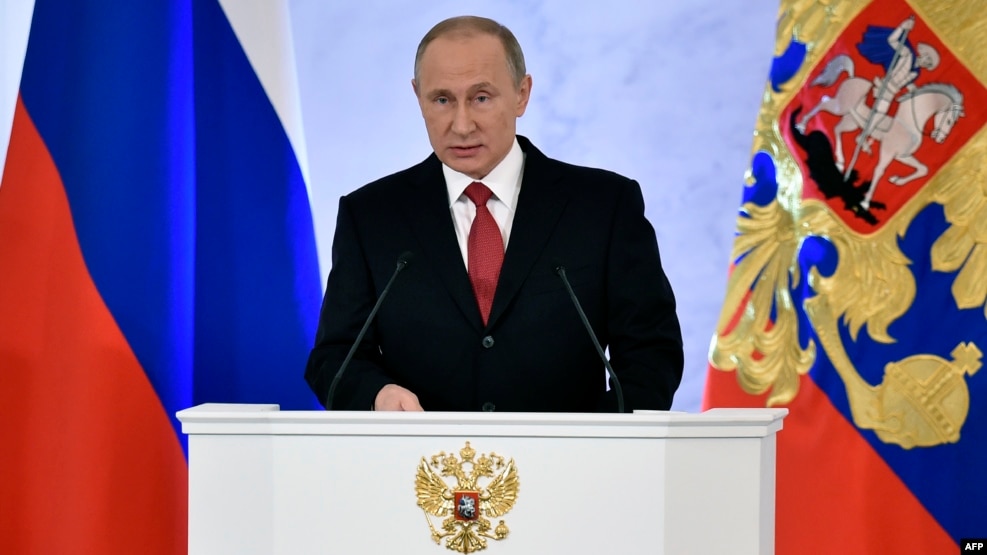 -- Russian President Vladimir Putin is giving his annual state-of-the-nation address in the Kremlin's lavish St. George Hall, with members of both houses of the legislature, the government, the judges of the Supreme and Constitutional courts, members of the Audit Chamber and the Civic Chamber, regional and religious leaders, and other dignitaries in the audience.
-- Putin's address is mandated by the Russian Constitution, which requires that the president report annually on the current state of affairs in the country and on key domestic- and foreign-policy priorities.
-- Speaking to journalists on November 29, Kremlin spokesman Dmitry Peskov said this year's address will "be very different in content" from the addresses of previous years, although "the backbone of it will remain unchanged."
-- There has been speculation in the Russian media that Putin could announce plans to move the presidential election currently set for March 2018 up to 2017 or significant constitutional reforms.
* NOTE: Times are given according to local time in Moscow (GMT/UTC +3)
Putin says that agricultural production increased in 2016 and will grow further next year.
Putin says Russia's countersanctions against the West have helped domestic industries but that won't last forever.
Putin says it is possible that inflation could be as low as 4 percent in 2017.
Putin says he expects inflation this year to be less than in 2015.
'Don't hesitate to nod along' seems to be advice at the door for the great and the good heading into Putin's address to the nation
Putin says Russia has "preserved its financial reserves."
Putin says government will provide direct assistance to industrial sectors that need it. Notes production increases in the automobile and agricultural machinery sectors.
"Putin: I suggest we connect all Russian hospitals to high-speed internet. To practice telemedicine.
SURE."
Путин: Предлагаю подключить к скоростному интернету все больницы России. Для практики телемедицины
Putin notes a small but significant increase in industrial output.