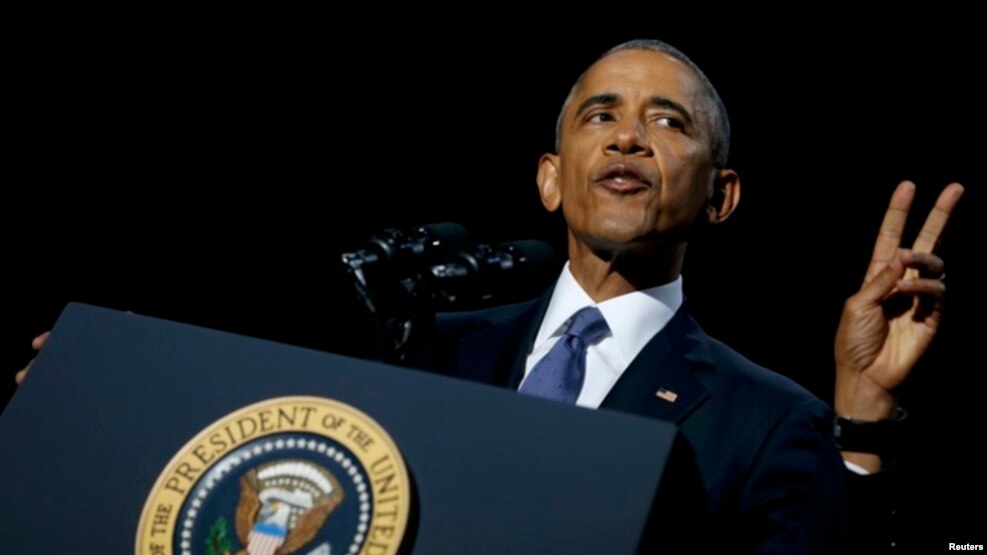 U.S. President Barack Obama in a farewell address on January 10 said he leaves the nation stronger than before, butAmericans must work to overcome deep divisions that threaten to unravel America's unity of purpose and power.
Obama hailed his nuclear deal with Iran, opening to Cuba, slaying of Al-Qaeda leader Osama bin Laden, and revival of the American economy in listing his greatest achievements, and said he had accomplished more during his eight years in office than even his supporters thought possible.
"By almost every measure, America is a better, stronger place than when we started," he said. "We remain the wealthiest, most powerful, and most respected nation," Obama said, but he outlined what he sees as significant threats that future presidents and citizens will need to address.
Obama cited the rising rejection of immigrants as a threat, pointing out that America from the start has been a nation of immigrants and draws much of its economic and cultural strength from the mix of races and nationalities that have merged within its borders.
"Our youth and drive, our diversity and openness, our boundless capacity for risk and reinvention mean that the future should be ours. But that potential will be realized only if our democracy works. Only if our politics reflects the decency of the people."
Divisions caused by "a shrinking world, growing inequality; demographic change, and the specter of terrorism" now threaten U.S democracy, which requires "a basic sense of solidarity - the idea that for all our outward differences, we are all in this together; that we rise or fall as one," he said.
Obama called on Americans to work individually as well as through the government and other organizations to fight the "corrosive" trends toward division, isolation, and discrimination against those who look and think differently from themselves.
"I reject discrimination against Muslim Americans, who are just as patriotic as we are," he said. And he frankly addressed white Americans, saying "those brown kids will represent a larger and larger share of America's workforce" and should be embraced and accepted.
Obama said the internal divisions of society and acrimony of political debate today represent theats as great as any external threat from terrorists or dictators overseas.
"So let's be vigilant, but not afraid. [Islamic State] will try to kill innocent people. But they cannot defeat America unless we betray our Constitution and our principles in the fight. Rivals like Russia or China cannot match our influence around the world unless we give up what we stand for and turn into just another nation that bullies smaller neighbors," Obama said.
di Patrice Hill per "Radio Free Liberty"