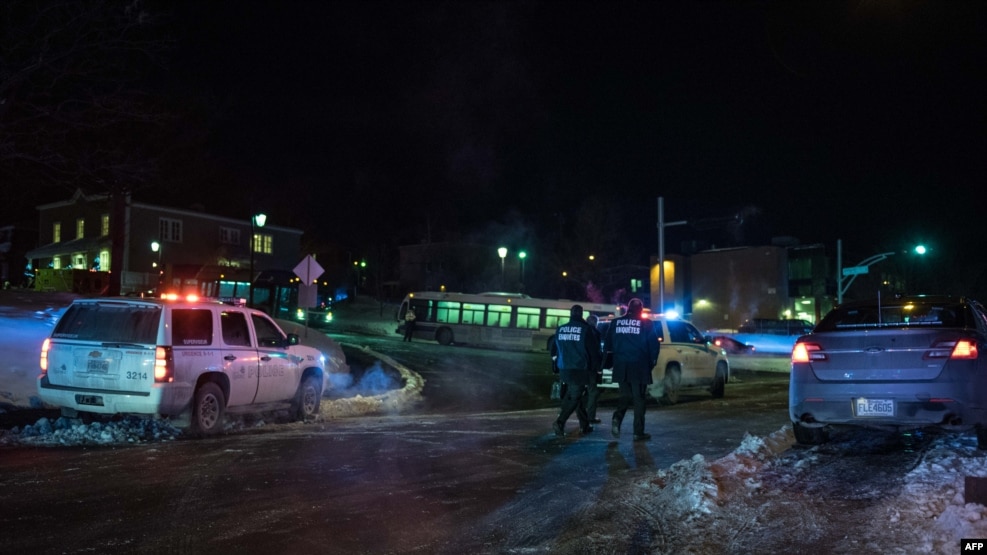 Police in Quebec City say six people have been killed and eight wounded in a shooting at a local mosque during prayer time, in what officials called a "terrorist act on Muslims."
Quebec provincial police spokeswoman Christine Coulombe said two suspects had been arrested.
She gave no more details into what prompted the January 29 shooting at the Quebec City Islamic Cultural Center, saying the investigation had just begun.
Initially, the president of the mosque in the eastern Canadian city said five people were killed.
And the Reuters news agency quoted a witness as saying up to three gunmen had been involved.
Quebec Province's Prime Minister Philippe Couillard described the shooting as "barbaric violence" and said it was a "terrorist act on Muslims."
Canadian Prime Minister Justin Trudeau said on Twitter: "Tonight, Canadians grieve for those killed in a cowardly attack on a mosque in Quebec City. My thoughts are with victims & their families."
"Why is this happening here? This is barbaric," the mosque's president, Mohamed Yangui, told reporters.
Zebida Bendjeddou, who left the mosque earlier in the evening of January 29, said the center had received threats.
"In June, they'd put a pig's head in front of the mosque. But we thought: 'Oh, they're isolated events.' We didn't take it seriously. But tonight, those isolated events, they take on a different scope," she said.
The mayor of Gatineau, also in Quebec, said there would be increased police presence at mosques around his city following the attack.
In New York, police there said they were increasing patrols at mosques and other houses of worship.
The New York Police Department "is providing additional protection for mosques in the city," Mayor Bill Blasio said on Twitter. "All New Yorkers should be vigilant. If you see something, say something."
With reporting by Reuters, AP, dpa, USA Today, and CBC