Authoritarian President Gurbanguly Berdymukhammedov appears certain to extend his rule for seven more years as citizens went to the polls on February 12 in hermetic, gas-rich Turkmenistan.

Berdymukhammedov, who has control over all aspects of society, is expected to easily defeat eight other candidates who are widely seen as window dressing for the vote in the Central Asian country.
Casting his vote at a school in the capital, Berdymukhammedov said the vote would decide "the fate of the people for the coming seven years."
He was accompanied by family members including his son, who was elected as a parliamentary deputy last year.
"If I am elected then our policies aimed at improving the welfare of the people will continue," Berdymukhammedov said.
The polls opened at 7 a.m. local time and are scheduled to close at 7 p.m., officials said.
The turnout exceeded 74 percent in the first six hours of voting, the Central Election Commission said.
But RFE/RL correspondents saw only a trickle of voters at several polling stations in the capital.
RFE/RL's Turkmen Service reported that, on February 10, two days before the actual vote, students at a school in Ashgabat were tasked with filling in ballots in favor of the country's president.
"These ballots are to be put in ballot boxes for the people who will not show up," a source at the school located on the capital's Kemine street told RFE/RL.
"Every election in the past 25 years has been rigged and there is no real opposition in the country -- the society is oppressed and independent media is practically nonexistent," said Michal Romanowski, an expert on Eurasia at the German Marshall Fund of the United States.
In power since 2006, Berdymukhammedov is running against little-known regional government officials, lawmakers, and heads of companies on a ballot that includes candidates from more than one party for the first time.
The changes come after the 59-year-old incumbent said last year that there would be "alternatives" in the 2017 election.
But no parliamentary or presidential election held in Turkmenistan has been deemed free or fair by international monitors since the country gained independence in the collapse of the Soviet Union in 1991.
According to official results, Berdymukhammedov won 89 percent of the vote in 2006 and 97 percent in 2012.
Tightly Controlled Media
Observers say the presence of unknown candidates and state-created parties in this election is unlikely to make a difference in a country where all media outlets are controlled by the state.
"Only 15 percent of Turkmen society has access to the Internet," Romanowski told RFE/RL. "So not only the society is controlled and freedom of movement restricted, Turkmen [citizens] have no access to independent sources of information."

The tightly controlled state media gave little coverage to the other eight candidates' election campaigns, occasionally showing brief clips of meetings with voters.
And those candidates' election platforms steered clear of political matters or the human rights situation in Turkmenistan, considered by rights watchdogs to be among the worst in the world.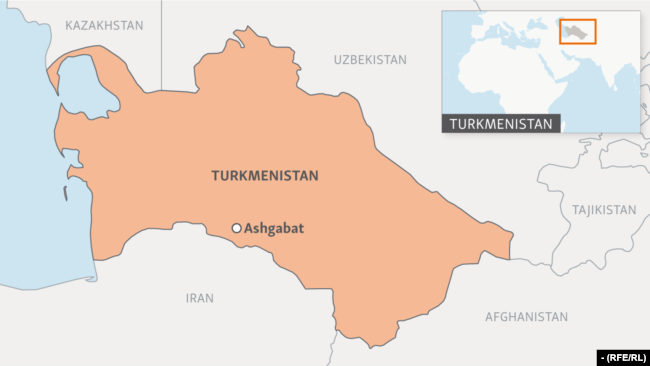 Berdymukhammedov, on the other hand, enjoyed blanket media coverage in frequent appearances in cities and towns across the sprawling, sparsely populated nation of 5.3 million.
Recently the president -- who is known for his love of singing, auto racing, and horseback riding -- was shown on state TV singing a song during a meeting with workers in the Akhal Province.

In another appearance, Berdymukhammedov was seen giving big, bright green boxes that reportedly contained television sets to a group of shepherds who vowed to vote for him in return.
WATCH: Vote-Buying In Turkmenistan?
Critics say that was one of several recent incidents that seemed to violate the country's election law, which bars candidates from influencing voters with money or gifts and guarantees equal access to the media for all candidates.
Independent Journalists 'Persecuted'

Two days before the vote, international watchdog Reporters Without Borders (RSF) said that "persecution" of the few remaining independent journalists has intensified in the past two years in Turkmenistan, which RSF ranks 178th out of 180 countries in its World Press Freedom Index.
"The world cannot remain indifferent to the contempt that its government displays for its international obligations," RSF said. "We urge the country's foreign partners to press Ashgabat to deliver serious human rights reforms and to uphold the right to freedom of expression."

While Berdymukhammedov has not been declared president for life, as his predecessor Saparmurat Niyazov was in 1999, Turkmenistan did amend its constitution last year to extend the presidential term from five to seven years and remove the 70-year age limit for candidates.

A dentist-turned-politician, Berdymukhammedov came to power after the death of the eccentric Niyazov, who was known for his extensive personality cult and brutal crackdowns on dissent.
Mild Reforms

Berdymukhammedov brought some mild reforms early in his presidency, such as reintroducing foreign languages to the school curriculum and reopening village hospitals closed down by Niyazov.

But critics say any hopes for a turn toward democratic ideals were quickly dashed, lamenting that the country still has no real opposition parties and that political dissenters are sent to prison or placed in psychiatric hospitals.

"Since he took power 10 years ago he has increased his personal control and... there are no competitors, there are no checks and balances built [into the system]," said Jozef Lang, a Central Asia analyst at the Centre for Eastern Studies in Warsaw. "The president controls both the elite and the society in a very tight way."
Personality Cult

Observers say Berdymukhammedov has also begun building his own personality cult, styling himself as Arkadag (the Protector). A 21-meter marble and gold-leaf statue of Berdymukhammedov on horseback, holding a dove, was erected in the center of the capital, Ashgabat, in 2015.

"He [declared himself] 'the protector' of society, but what he really wants to protect is his grasp on power and access to the hydrocarbon wealth that provides him and his narrow circle with significant profits," the German Marshall Fund's Romanowski said.

But Berdymukhammedov's third run for the presidency comes as the economy is struggling following a steep decline in global energy prices and a severe drop in exports.
Many state salaries are not being paid on time and the country also faces a deficit of staples such as cooking oil, flour, and sugar, as well as medicine, leading to price hikes in bazaars.

Photographs from Ashgabat and other cities showed long lines at government-owned grocery shops ahead of New Year celebrations.


During the election campaign, the government ordered private traders in bazaars to lower food prices, according to merchants and consumers.
"We are suffering heavy losses," a merchant in the northern city of Dashoguz, where prices were reduced ahead of Berdymukhammedov's visit to the province in January, told RFE/RL. He spoke on condition of anonymity, fearing government reprisals.
Ahead of the election, Human Rights Watch said Turkmenistan has denied its citizens "the ability to choose their president freely or enjoy freedom of expression or access to information."

The Organization for Security and Cooperation in Europe (OSCE) sent a limited observation mission to review the country's election laws and their implementation -- the first time the OSCE has ever sent monitors to a presidential election in Turkmenistan.

But Lang said he expects the vote will do little to change the reality beneath a veneer of democracy.

"Turkmenistan is a highly authoritarian state, yet it does have a facade of democratic institutions, and one of them is elections," he said.
With reporting by RFE/RL's Turkmen Service