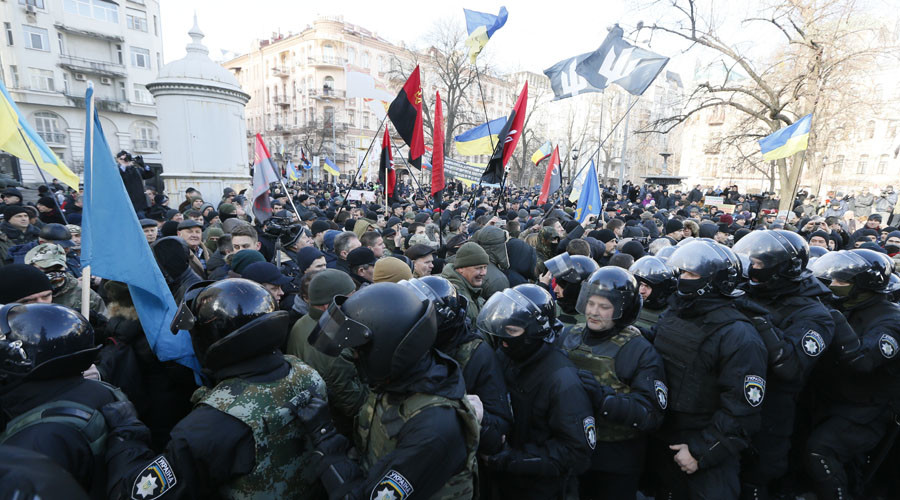 Protesters clashed with riot police during a rally in central Kiev Sunday, while marking the third anniversary of the Maidan protests. Some protesters have been detained, as seen from the live coverage from Ukraine's capital.
Riot police escorted several detainees into police buses, live coverage by Hromadske TV (Public TV) showed. Medics have been dispatched to the site of the protests.
Hromadske TV aired a live broadcast from near the building of the President's Administration on Kiev's main Khreshchatyk street.
A group of protesters is heading towards Kiev's central Independence Square (Maidan square), Interfax Ukraine reports. The demonstrators have broken through the police cordon at the European Square (Evropeiskaya square), according to reports which add that police are trying to contain the crowd.
Yury Zozulya, head of Kiev's National Police, denied reports of scuffles between protesters and police, Hromadske TV quoted him as saying. "These are not scuffles. People are looking for provocations and a [dramatic] picture," Zozulya said.
According to local media estimates, nearly 1,000 people gathered today at Kiev's central Independence Square (Maidan Square) to commemorate those who died in the protests three years ago.
Later, several hundred demonstrators, calling for a trade blockade against eastern Ukraine's Donbass region, headed to the Presidential Administration Building. They reportedly tried to set up a make-shift tent camp. The attempt was cut short by police which led to the clashes.
Protesters tried to break through the police cordon near Ukraine's National Bank and the administration building which also sparked scuffles. Protesters at the Independence Square also made an attempt to break through police lines, according to reports.
Some of the protesters are provoking security officials, shouting insults, hitting them on their helmets and throwing firecrackers at police, a local Hromadske reporter has said.
Around 10 people have been injured, a spokesman for Ukraine's International Committee of the Red Cross told Hromadske TV.
"There is information, that nearly 10 people have been injured," the spokesman said, adding that one of them had a brain injury.
One policeman has been seriously injured while five protesters have been detained, head of Kiev's National Police Andrey Krishchenko said, according to Hromadske TV (Public TV).
"One of the policeman suffered a closed brain injury," Krishchenko said, adding "the injury is serious."
People commemorating the events of 2014 at the Independence Square (Maidan square) brought candles, flowers, and photos of the people who died during the protests. Roads were shut in downtown Kiev and security was stepped up for the day. Police set up metal detector units and carried out identity checks on those who wanted to enter the city center.
Four days of the Maidan protests, February 18–21, 2014, were the deadliest. About 100 people are believed to have died in clashes between police and radical groups which used firearms and Molotov cocktails.
da "rt.com"