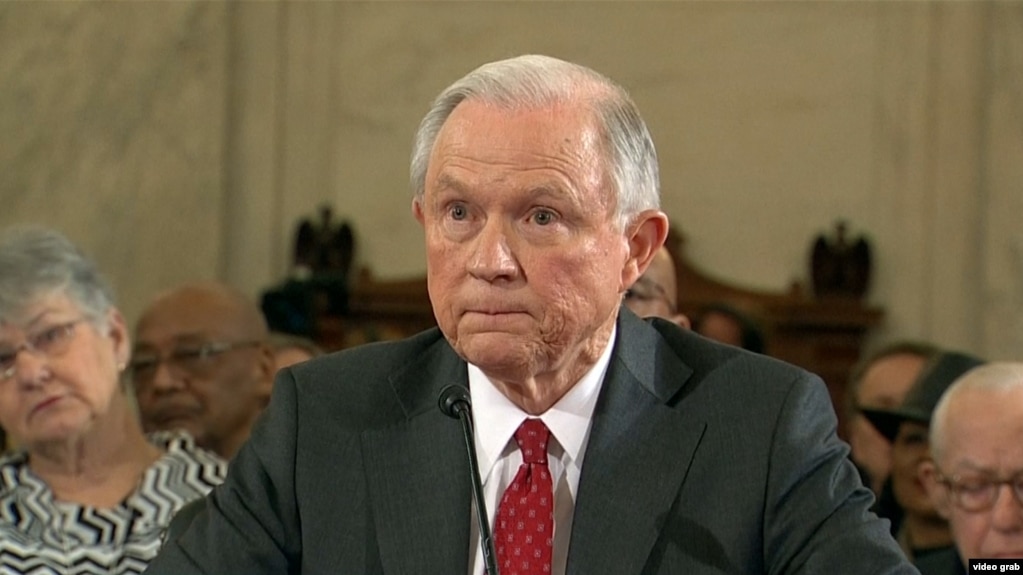 U.S. Attorney General Jeff Sessions failed to disclose in his confirmation hearings that he had two conversations with the Russian ambassador to the United States during the presidential campaign season last year.
The undisclosed conversations with Sergei Kislyak prompted calls from congressional Democrats for Sessions to resign or recuse himself from the Justice Department's investigation into alleged Russian interference in the election.
"Now, after lying under oath to Congress about his own communications with the Russians, the Attorney General must resign," the top Democrat in the U.S. House, Nancy Pelosi, said. "Sessions is not fit to serve as the top law enforcement officer of our country."
Sessions, an early supporter and adviser to President Donald Trump's campaign, was asked during the January hearings whether "anyone affiliated" with the campaign had contact with the Russians, and he said he was "unaware" of any.
Justice Department spokeswoman Sarah Isgur Flores said on March 1 that "there was absolutely nothing misleading about his answer."
She said Sessions had meetings last year with more than 25 foreign ambassadors in his role as a member of the Senate Armed Services Committee. She said the meetings had nothing to do with Trump's campaign
Sessions met with Kislyak in his Capitol Hill office in September and they also met after Sessions gave a Heritage Foundation speech during the summer, she said.
The contacts, first reported by The Washington Post, prompted some senior congressional Democrats to call on Sessions to recuse himself from the FBI's investigation into alleged Russian meddling in the election.
"He should do so without delay," said Representative Eliot Engel, the top Democrat on the House Foreign Affairs Committee, who also called for a special prosecutor to investigate the question of Russia's role in the election.
"This is not even a close call; it is a must," said Representative Adam Schiff, the top Democrat on the House Intelligence Committee.
In an interview with MSNBC on March 1, Schiff said Republicans and Democrats on the committee had reached a written agreement to investigate allegations of collusion between Trump's campaign and Russia.
A variety of tactics, including blackmail, extortion and collusion, are all known to be used by the Russians, Schiff said, and those tactics will be a focus of the investigation.
Schiff said the congressional investigation, which is tracking the same issues as the FBI investigation, is necessary because "our democracy was attacked [during the election] and it's vital that we understand what happened here."
With reporting by AP, dpa, Reuters, and The Washington Post