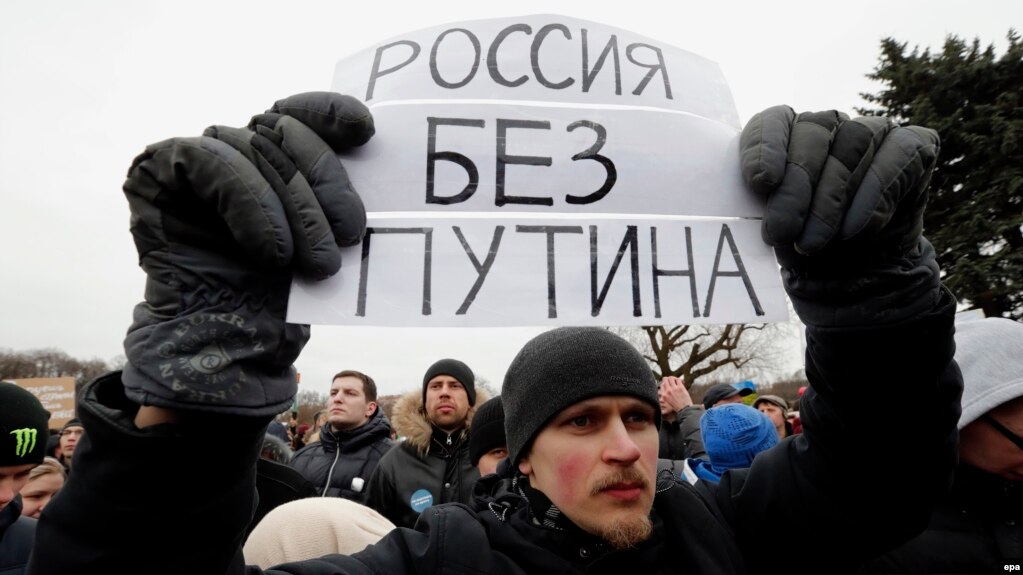 A protest campaign in many Russian cities is under way urging President Vladimir Putin not to run in the country's presidential election next year.
Hundreds of people are presenting written appeals at city halls and at the presidential administration building in Moscow on April 29 in a campaign known as "We're Sick Of Him" and "Enough!," which calls for Putin to retire from politics.
Hundreds of riot police have been deployed in front of the presidential administration building in central Moscow for the event, which has been organized by the pro-democracy Open Russia movement that was founded by Kremlin critic and former oligarch Mikhail Khodorkovsky.
LIVE STREAM: Protests In Moscow (natural sound, no subtitles)
​
Russian officials have declared the protest campaign to be unauthorized and said that police would deal with the participants in the event.
In Kemerovo, about 20 people were detained during the campaign early on April 29.
The organizers of the protests were also detained in the cities of Izhevsk and Gorno-Altaysk.
In several other Russian cities, including Novosibirsk, the protests have already concluded.
The Open Russia organization was declared "undesirable" by the Prosecutor-General's Office on April 26 and police raided the Moscow offices of the group the following day, confiscating leaflets to be handed out during the protest action.
Putin, who first served as president in 2000, is currently in his third term as president and was also prime minister from 2008 to 2012.
With reporting by Reuters