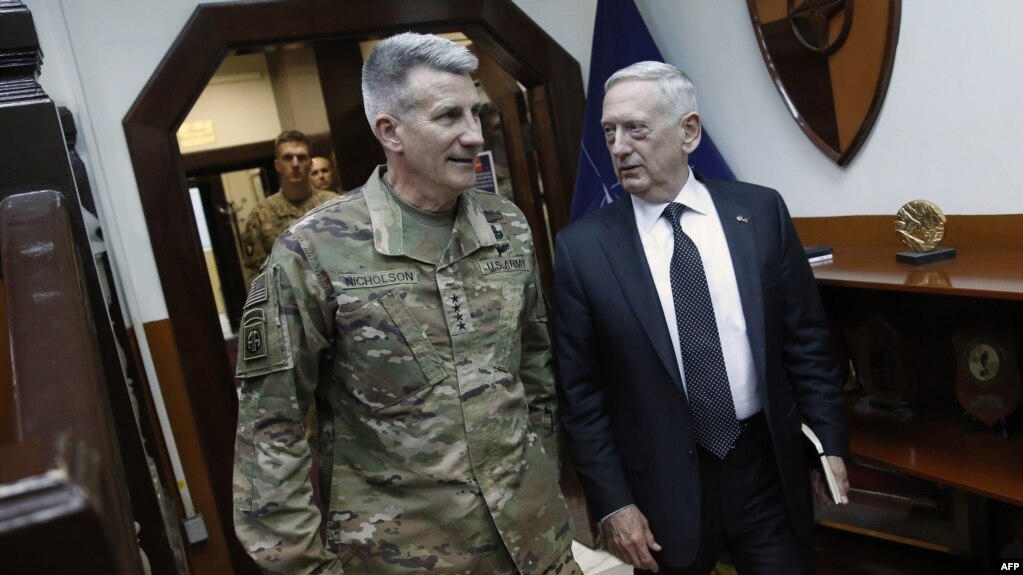 A top U.S. Army general has suggested during a visit to Afghanistan by U.S. Defense Secretary Jim Mattis that Russia is arming Taliban militants.
General John Nicholson, the commander of U.S. forces in Afghanistan, said during a joint press conference in Kabul with Mattis on April 24 that he wouldn't dispute that Russia's involvement in the Afghan war includes Moscow providing weapons to the Tailban.
Nicholson avoided offering specifics.
Nicholson also said it was "quite possible" that the Pakistan-based Haqqani militant network was responsible for an April 21 attack on an Afghan military base at Mazar-e Shariff that killed as many as 140 Afghan soldiers.
Nicholson said he came to that assessment after considering the sophisticated planning behind the attack.
The Taliban has claimed responsibility.
Mattis's arrival in Kabul on April 24 coincided with the resignation of Afghanistan's defense minister and army chief of staff in the wake of the Mazar-e Sharif massacre.
Mattis, the first member of President Donald Trump's cabinet to visit Afghanistan, met with Afghanistan's President Ashraf Ghani and other senior government officials during his previously unannounced April 24 visit.
Speaking to reporters in Kabul, Mattis said the United States would "engage with Russia diplomatically," but added that his administration would confront Moscow on matters where the policies it was pursuing were "contrary to international law or denying the sovereignty of other countries, for example: any weapons being funneled" to Afghanistan from abroad.
WATCH: Mattis Warns Russia Not To Arm Taliban
Mattis's visit -- the final stop on a six-country tour aimed at bolstering relations with U.S. allies and partners -- was focused on assessing the needs in the war against the Taliban and other militants as Washington considers whether to deploy more U.S. troops in Afghanistan.
WATCH: Mattis Foresees 'Another Tough Year' In Afghanistan
General Nicholson recently told Congress that he needs a few thousand more troops to bolster Afghan security forces until they eventually can handle the fight against Taliban militants on their own.
U.S. officials say Nicholson's request has been advancing through the chain of command.
U.S. national security adviser General H.R. McMaster visited Kabul earlier in April.
With reporting by Reuters and AP