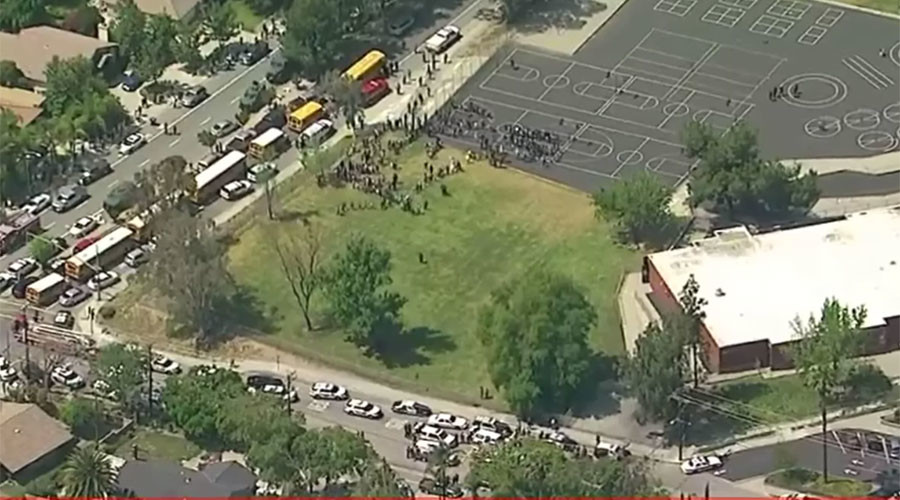 At least four people, including a teacher and two students, have been shot at an elementary school in San Bernardino, California. The incident is believed to have been a murder-suicide, according to police.
The shooting occurred in a classroom at North Park School. Along with the four victims, the suspect is believed to be down as well, according to San Bernardino Police Chief Jarrod Burguan.
We believe this to be a murder suicide. Happened in a class room. Two students have been transported to the hospital.
Two adults are dead in the classroom, and police "believe the suspect is down and there's no further threat," Burguan said.
Patricia Brown waits to pick up her daughter at North Park Elementary in San Bernardino where there was an active shooter
The two students were transported to the hospital via helicopter, a spokesperson for the San Bernardino City Unified School District told KCBS.
BREAKING: Students hold hands while evacuating North Park Elem, in

#

SanBernardino

after apparent murder-suicide on campus. 2 students hurt
The fire department has set up a triage to assess and treat victims at the scene.
The San Bernardino County Sheriff's Department is assisting in the investigation.
#

BREAKING

San Bernardino school spokeswoman says 1 of 4 shot in classroom was teacher.

bit.ly/2oZwaNW
North Park, Cajon and Hillside Elementary Schools are on lockdown, while the San Bernardino campus of California State University is under a shelter-in-place order.
This is the second mass shooting in the southern California city in
since December 2015
. In that incident, which was later categorized as an act of terrorism, a married couple opened fire on a holiday party for the husband's work, killing 14 and injuring 21.
San Bernardino experienced a surge in violence in 2016, including a 41 percent increase in homicides over the previous year. The 62 slayings made 2016 the city's deadliest year since 1995, the Los Angeles Times reported.
da "rt.com"