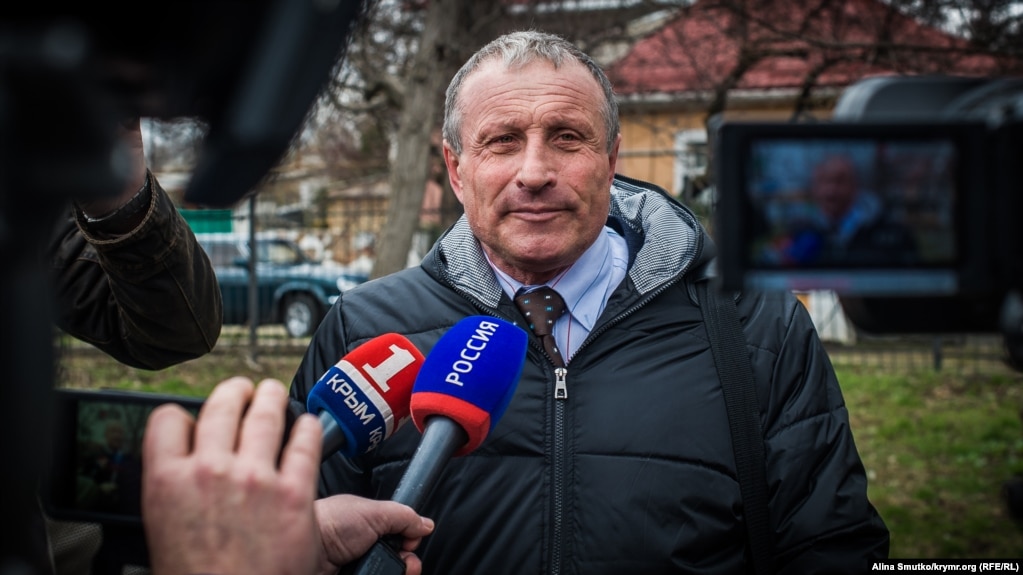 The trial of Crimean journalist Mykola Semena -- an RFE/RL contributor charged by Crimea's Russian-imposed authorities of writing an article that support separatism -- has been adjourned until May 3 after a brief court session on April 18.
One witness who was called by the prosecution actually testified against Semena on April 18.
The witness testified to seeing an article written by Semena that the Russian-installed prosecutor described as being in support of separatism.
Two other witnesses who had been called by the prosecution failed to appear in court.
Semena spoke to RFE/RL on April 17, saying that the charge against him was "not legal but political."
Semena said that while the Russian Constitution guarantees the freedom of expression, "in fact people are being prosecuted for that."
The charge stems from a 2015 article Semena wrote for RFE/RL's Krym.Realii (Crimea Realities) website.
Authorities installed in Crimea by the Kremlin after Russia's seizure and annexation of the Ukrainian region have said Semena's article called for the violation of Russia's territorial integrity.
He faces up to five years in prison if convicted under the Russian law.
The 66-year-old Semena says he has not committed any crime.
He insists he has the right to openly express his opinions.
He also says that Crimea's status was and remains the subject of an international debate.
The United States, the European Union, the Organization for Security and Cooperation in Europe (OSCE), and international media watchdogs have expressed concern about his prosecution.
Activists say the charges against him are part of a Russian crackdown against independent media and dissent in the Russian-occupied peninsula.
The trial began on March 20, but was swiftly adjourned until April 3 and was then adjourned again until April 18.
da "Radio Free Liberty"