The United States struck a Syrian air base with dozens of cruise missiles in the early hours of April 7 in response to a deadly chemical-weapons attack against civilians earlier this week that Washington blamed on the Syrian government.
It was the first direct American assault on the Syrian government in six years of civil war and was U.S. President Donald Trump's most consequential military order since becoming president.
Just prior to the U.S. attack, Russian diplomats warned the United States against what it called a "doubtful and tragic enterprise" and said America would have to take "all responsibility" for the "negative consequences."
The Kremlin on April 7 said that President Vladimir Putin considers the U.S. air strike on Syria an act of aggression against a sovereign nation and said it will hurt U.S.-Russian relations and undermine counterterrorism efforts.
The surprise strike marked a dramatic reversal for Trump, who last year campaigned against getting pulled into Middle East conflicts in what he touted as an "America First" foreign policy.
But after what is believed to have been a nerve-gas attack on the Syrian town of Khan Sheikhoun on April 4 that killed at least 86 people, Trump said he was moved by photos of children being killed, which he said had "crossed many lines for me."
"Syrian dictator Bashar al-Assad launched a horrible chemical-weapons attack on innocent civilians. Using a deadly nerve agent, Assad choked out the lives of helpless men, women, and children," Trump said in a brief televised statement explaining his reasons for ordering the retaliatory strikes on the airfield he said was used to launch the chemical attack.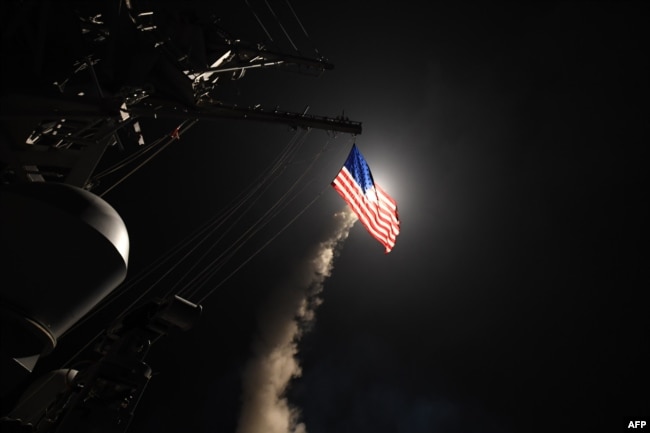 "It is in the vital national security interest of the United States to prevent and deter the spread and use of deadly chemical weapons," which Assad used in violation of international law, he said.
"I call on all civilized nations to join us in seeking to end the slaughter and bloodshed in Syria," Trump said. "We hope that as long as America stands for justice, then peace and harmony will, in the end, prevail."
Roughly 60 U.S. Tomahawk missiles, fired from warships in the Mediterranean Sea, targeted Syria's western Shayrat Airfield in a massive assault that U.S. officials said targeted airstrips, aircraft, radar, and fuel stations.
The Pentagon said its initial assessment was that only the targeted areas were destroyed. But analysts said the U.S. retaliatory strikes had the potential to kill many civilians and even Russian military officials residing in areas around the airfield.
Just prior to news breaking about the attack, Russia's deputy United Nations ambassador, Vladimir Safronkov, warned of "negative consequences" if the United States carried out military strikes on its ally Syria.
"We have to think about negative consequences, negative consequences, and all the responsibility if military action occurred will be on shoulders of those who initiated such a doubtful and tragic enterprise," Safronkov said.
WATCH: U.S. Envoy: Russia 'Cannot Escape Responsibility' Over Syrian Attack
When asked what those negative consequences could be, Safronkov said: "Look at Iraq, look at Libya."
The Pentagon said it notified Russia in advance of the strikes and that it took pains to avoid hitting parts of the air base where Russian forces were stationed.
"Russian forces were notified in advance of the strike using the established deconfliction line," Pentagon spokesman Navy Captain Jeff Davis said, referring to a special military hotline. "U.S. military planners took precautions to minimize risk to Russian or Syrian personnel located at the airfield."
U.S. Secretary of State Rex Tillerson said Moscow deserved some blame for the chemical attack because it has failed to live up to a 2013 agreement that was intended to strip Syria of its chemical-weapons stockpiles.
"Either Russia has been complicit or Russia has been simply incompetent in its ability to deliver on its end of the agreement," Tillerson said.
Trump did not announce the attacks in advance, though he and other national security officials issued warnings to the Syrian government throughout the day on April 6.
"I think what happened in Syria is one of the truly egregious crimes and shouldn't have happened and it shouldn't be allowed to happen," Trump told reporters traveling on Air Force One to Florida, where he was holding a two-day summit with Chinese President Xi Jinping.
After the attacks, Trump called on "civilized nations" to join the United States in "seeking to end the slaughter and bloodshed in Syria" and said it was in the United States' interest to stop the use of chemical weapons.
The air strikes won strong approval from leaders of both parties in the U.S. Congress.
"It is critical that Assad knows he will no longer enjoy impunity for his horrific crimes against his own citizens, and this proportional step was appropriate," said Senate Foreign Relations Committee Chairman Bob Corker.
"Making sure Assad knows that when he commits such despicable atrocities he will pay a price is the right thing to do," said Senate Democratic leader Chuck Schumer.
With reporting by AP, AFP, Reuters, and NBC News