While elections in Iran look like slug-it-out campaigns, with many of the trappings of competition -- government critics, disagreement on high-profile issues, and televised public debates -- they are kept tightly in check by unelected officials under the country's clerically dominated system.
But in addition to these hallmarks of political power struggles in postrevolutionary Iran, there is also a state-dominated media environment with a history of subtle attacks on candidates and sitting officials, including incumbent President Hassan Rohani.
Attacks and smears targeting elected officials -- in the past and so far in the run-up to this election-- have included crackdowns on supporters, intrigue around family members, and appeals to national security.
Here's a look at some of the issues that have emerged as hard-liners try to unseat a man they've criticized as being too friendly toward the West.​
This year, in the first of three televised presidential debates, Qalibaf accused Rohani of relying in part during his victorious 2013 campaign on an individual who has since been sentenced to death for economic corruption. Qalibaf did not name any names, but he appeared to be referring to Iranian billionaire and business magnate Babak Zanjani. His accusation echoed a statement in January by the head of the powerful judiciary, Sadegh Larijani, who said Zanjani had claimed that he had contributed to Rohani's election campaign.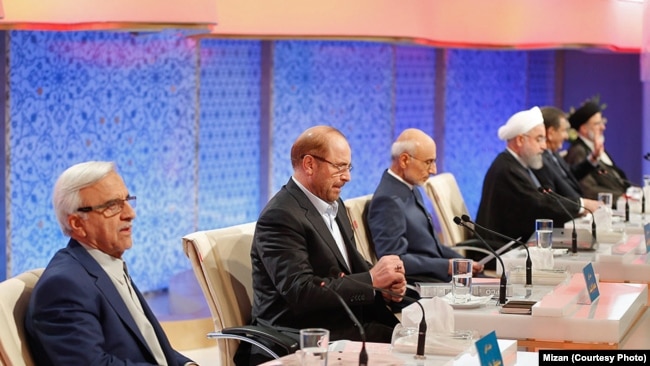 "A corrupt individual who is sentenced to death has made a claim. One doesn't quote a corrupt individual," Rohani said in the April 28 debate.
Hard-line news sites published a photo of Rohani giving what appears to be an award to Zanjani. Rohani has countered that the image is from an event held several years ago to highlight Iran's top exporters. He said he was asked to present the awards, saying that he didn't know the recipients.
During the second presidential debate, on May 7, Qalibaf accused the daughter of Rohani's education minister of the "smuggling of imported goods." The allegations were also leveled by a spokesman of the judiciary, who said in late April that a large shipment of clothing had been discovered in a minister's home.
Vice President Eshaq Jahangiri, who is one of the five men running against Rohani but who is seen as in the race to run cover for the president, dismissed the charges, saying that the minister's daughter had paid all custom duties.
During the third presidential debate, on May 12, Raisi and Qalibaf each tried to paint Rohani with the corruption brush.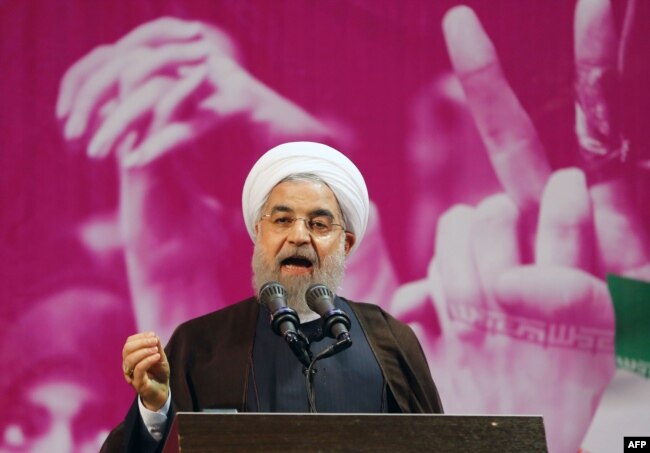 In the second presidential debate, Raisi accused Rohani's government of weakness during negotiations with world powers ahead of the landmark deal exchanging curbs on Tehran's nuclear program for relief from sanctions.
Rohani aides have also been accused of improper affiliations with Western countries, a claim the Iranian president has dismissed as a misuse of the term "infiltration" for their political goals.
The harassment and arrests of dual nationals -- including Iranian-Americans accused of espionage -- are seen as further evidence of efforts to bring Rohani's outreach efforts to heel.
Rohani confronted increased pressure during the current campaign to demonstrate any windfall from the nuclear agreement, primarily from Raisi and Qalibaf.
"Today, 30 percent of our young people are out of jobs and unemployment is over 12 percent," Raisi said during a recent rally in Tehran. "Does this situation have to continue? Do we have to wait for foreigners to fix our problems?"
Speaking on state television on May 1, Qalibaf played down Rohani's role in achieving the deal. He said that any other administration would have signed the nuclear accord because the green light for the nuclear talks came from "the entire establishment." But he also said Rohani's government has failed to translate the deal into benefits for Iranians.
"Have people benefited from the accord?" he asked, adding that "this is a serious weakness" of Rohani's government.
On a related note, Rohani has also come under pressure for allegedly doing too little to implement Khamenei's call for a "resistance economy" to make Iran more self-sufficient. His rivals have suggested that the president has been relying heavily on foreign investment while ignoring national resources and capabilities.
"Of course, the government has taken remarkable steps," Khamenei was quoted by state TV as saying, "but if the resistance economy had been implemented fully and widely, we could witness a tangible difference in people's lives."
In Iran, where officials and politicians frequently go to great lengths to demonstrate piety and modesty, signs of conspicuous consumption can do considerable damage.