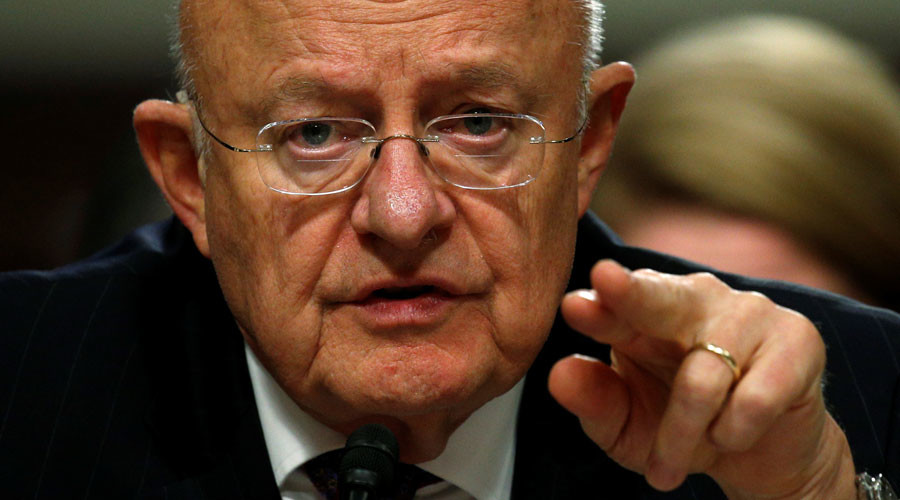 Former US Director of National Intelligence James Clapper says the checks and balances in the US system are "eroding" because institutions are facing an internal assault from President Donald Trump.
Speaking on CNN's State of the Union on Sunday, Clapper said that Trump's sacking of FBI director James Comey has caused turmoil in intelligence circles.
"The developments of the past week are very bothersome, very disturbing to me," Clapper said, before repeating claims that Russia interfered in last year's US presidential election – something he has admitted there is no evidence of.
"I think in many ways our institutions are under assault both externally, and that's the big news here; Russian interference in our election system. And, as well, I think our institutions are under assault internally," Clapper explained, prompting host Jake Tapper to ask "internally from the President?"
"Exactly," Clapper responded, saying "the Founding Fathers, in their genius, created a system of three co-equal branches of government and a built-in system of checks and balances and I feel as though that's under assault and is eroding."
Clapper handed in his
resignation
as National Intelligence Director shortly after Trump's election victory in November. He officially left office on the day the new president moved into the White House.
His reign as intelligence chief was marred by fallout from inaccurate statements he made to Congress about the NSA's data collection on American citizens. In March of 2013, he claimed that the NSA does "not wittingly" collect the data of Americans. A few months later, NSA whistleblower Edward Snowden leaked documents revealing the agency's exhaustive domestic data collection programs.
The Obama-appointed former intelligence chief said Sunday that Comey's firing has had a palpably negative impact on the morale of the intelligence community. "People are very upset about the way he was treated," he claimed.
Clapper added that he had exchanged emails with the former FBI director, but declined to divulge what they discussed.
Clapper also addressed the issue of secret White House taping devices, a prospect
Trump raised
in the aftermath of Comey's firing.
When asked if intelligence agencies would know about such devices, Clapper responded: "I can't say, I would hope so. Certainly, from a security standpoint if nothing else. I don't believe there was one in the administration I served in, I certainly can't comment [on the current administration]."
da "rt.com"