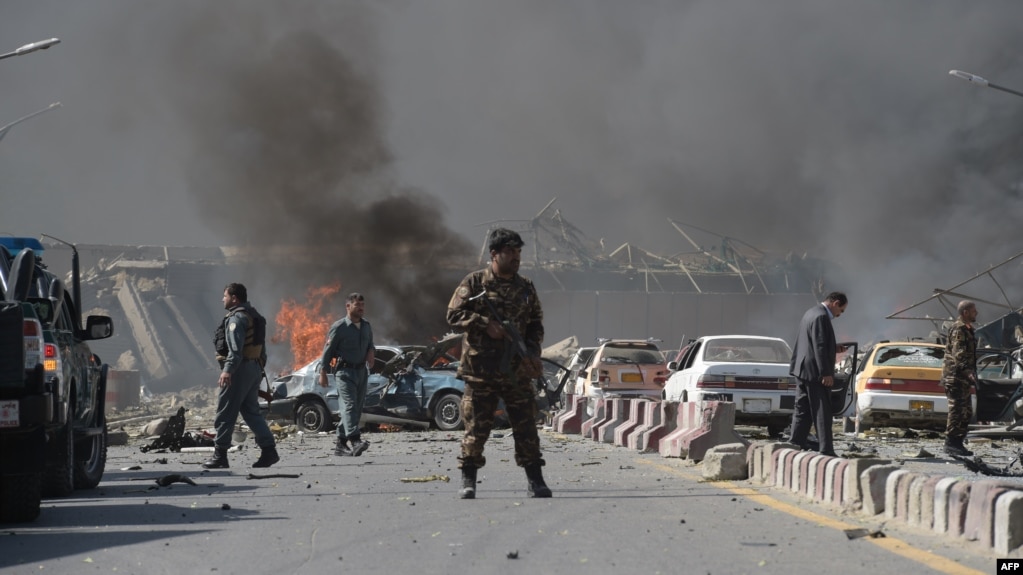 Several people were killed and wounded in a powerful car-bomb explosion in the center of Afghanistan's capital, Kabul, on May 31, in an area near the presidential palace and foreign embassies, police said.
The number of victims was not immediately clear.
Basir Mujahid, a spokesman for Kabul police, said several people were killed and wounded in the blast near the fortified entrance to the German Embassy.
"It was a car bomb near the German Embassy, but there are several other important compounds and offices near there too. It is hard to say what the exact target is," Mujahid said.
A spokesman for the Public Health Ministry said at least 67 wounded have been taken to Kabul hospitals following the blast.
Najib Danish, deputy spokesman for the Interior Ministry, was quoted by the Associated Press as saying at least 50 people were killed or wounded.
Danish said the blast was so large that more than 30 vehicles were either destroyed or damaged.
The explosion shattered windows, blew doors off their hinges in houses hundreds of meters away, and sent plumes of black smoke spiraling over the city center.
There was no immediate claim of responsibility for the blast. A spokesman for Taliban insurgents said he was gathering information.

The attack came amid the Taliban's annual "spring offensive."
The Islamic State extremist group has also claimed responsibility for several recent bombings in the Afghan capital, including a powerful blast targeting an armored NATO convoy that killed at least eight people and wounded 28 on May 3.
The blast was the latest in a series of attacks in the Afghan capital. Kabul Province had the highest number of casualties in the first three months of 2017 thanks to multiple attacks in the city, with civilians bearing the brunt of the violence.
With reporting by Reuters, AP, AFP, and dpa