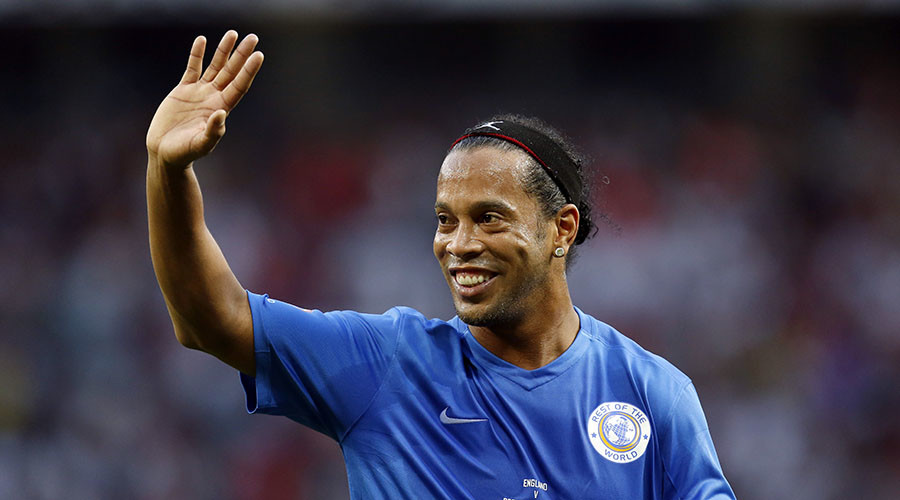 The Confederations Cup in Russia is the 'finish line' before the 2018 World Cup, Brazilian football legend Ronaldinho has told RT, adding that he expects high motivation from players during the event this summer.
The players will be "inspired" when they arrive in Russia for the Confederations Cup this summer, Ronaldinho said.
"A footballer, who played well in this competition, practically guarantees himself a ticket to the World Cup," he told RT.
The 2002 world champion and double FIFA World Player of the Year has described the Confederations Cup as "a very important tournament."
"I think that's the reason why athletes come to this event with such motivation is that they know that this is the finish line before the World Cup. Every footballer wants to make it to the World Cup, so everyone tries to prove themselves in the best possible way," the Brazilian said.
Ronaldinho was speaking in city of Kazan where he arrived on Saturday with former Nigerian football star Jay-Jay Okocha to take part in the opening of the Confederations Cup Park.
The players toured the Kazan Arena which will stage Confederations Cup and World Cup matches, with Ronaldinho showing off his ability to score from the penalty spot.
Similar Parks have previously opened in Moscow and Sochi with another one to open in that last reaming Confederations Cup host city of Saint Petersburg, on May 20-21.
The 2017 FIFA Confederations Cup, scheduled to take place between June 17 and July 2, 2017, is seen as Russia's dress rehearsal ahead of the World Cup which the country hosts next year.
The tournament will bring together champions of FIFA's six regional confederations (Portugal, Chile, Mexico, Cameroon, Australia, New Zealand), the current World Cup holders Germany and host nation Russia.
da "rt.com"