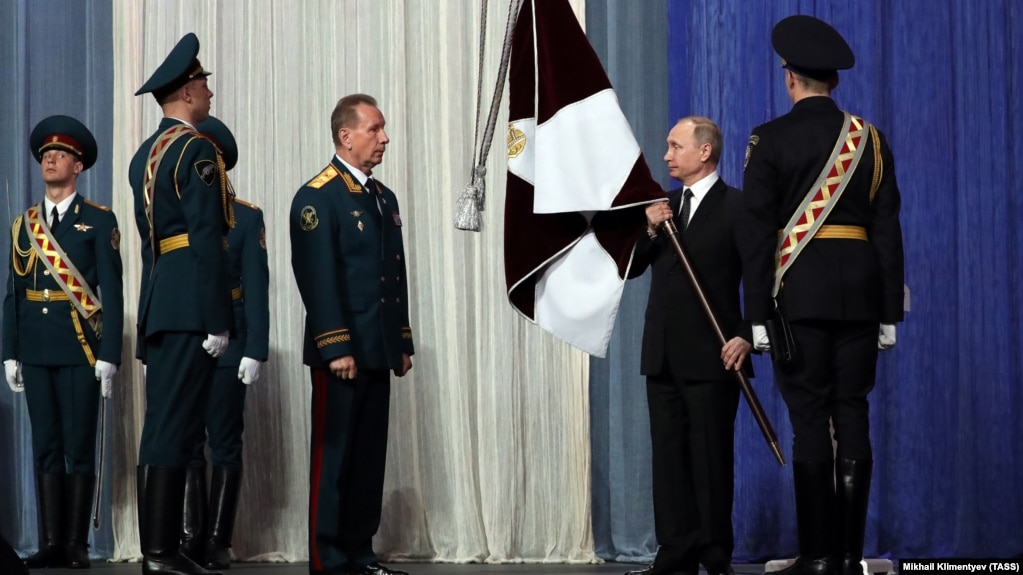 A modern Praetorian Guard. A revival of Josef Stalin's NKVD. And a 21st-century version of Ivan the Terrible's Oprichniki.
Russia's National Guard has been called all these things, and not only by its critics.
Ever since Vladimir Putin established the guard as a domestic security force last year and placed it in the hands of his uber-loyal former bodyguard, Viktor Zolotov, alarm bells have been periodically sounding among the Russian opposition, in the media, and within the elite.
With hundreds of thousands of men under arms and reporting directly to Putin, the National Guard is widely viewed as both a tool to quickly put down civil unrest and an insurance policy against a potential palace coup.
It has quickly taken on a mystique and a menacing aura, one that the guard's top officials have eagerly encouraged.
There have been rumors
floated in the Russian media
, for example, that the National Guard was making a play to take over the Interior Ministry's notorious and shadowy Center-E, a special investigative unit set up to combat so-called "extremism" and that the Kremlin was receptive to the idea.
The Interior Ministry denied this and the story, which appeared to have been leaked from within the guard itself, disappeared.
But the impression lingered that with Putin's pal Zolotov at the helm, it just might have the bureaucratic clout to pull off such a move.
More recently, in a May 30 interview with Izvestia, the National Guard's deputy commander, General Sergei Melikov, proudly called it "the heir to the NKVD."
Izvestia
scrubbed the reference
to Stalin's feared secret police in its online edition, but
screenshots of the comment
continue to circulate on social media.
Days before Melikov's remarks, Yury Baluyevsky, a retired general who advises the National Guard,
wrote in Nezavisimoye Voyennoye Obozreniye
that "the main threats to Russia come not from the outside but from within" and that the guard must be prepared to deal with those threats.
Its formation, he added, was an answer "to the threat of so-called nonviolent resistance, which can more accurately be called a colored revolution."
Melikov and Baluyevsky made their provocative remarks as opposition leaders organized nationwide anti-Kremlin protests scheduled for the June 12 Russia Day holiday.
They also made them shortly after Putin
signed a decree
effectively giving the National Guard commander the power, with Putin's consent, to assume control over and give direct orders to regular military units for specific domestic operations.
Military analyst Aleksandr Golts
wrote in Yezhednevny Zhurnal
that the decree indicated that the Kremlin was laying the groundwork to use military units against Russian citizens in the event of civil unrest.
The General Staff, Golts wrote, was resistant to this idea, "but the Kremlin was anxious. And so the National Guard conquered the army."
Likewise, political analyst Ruslan Gorevoy
wrote in Versiya
that Putin's decree gives the National Guard powers that exceed even those enjoyed by Ivan the Terrible's Oprichniki or Stalin's NKVD.
That's a bit of a stretch. The National Guard hasn't been empowered to carry out extrajudicial executions like Stalin's secret police. At least not yet.
And they certainly won't be riding around the country on black horses and clad in monastic garb, sacking cities and torturing dissidents as the feared security forces of Ivan IV did in the 16th century.
But the likes of Zolotov, Melikov, and Baluyevsky probably don't mind if people fear that it might.
The guard "was clearly established both in case the Kremlin wants to break heads on the streets and also to represent an additional obstacle to any elite political coup," Mark Galeotti of the Institute of International Relations in Prague
wrote on his blog,
In Moscow's Shadows. "But let's not get caught up in the hyperbole."
Putin's decree, Galeotti added, follows up on previous edicts allowing regular military units to be subordinated to the command of Interior Ministry troops.
And since the National Guard is now absorbing those Interior Ministry troops, along with the OMON riot police, and the SOBR -- or SWAT -- forces, Putin's latest decree looks like "a piece of legislative tidying up."
That may well be the case. Although taken in context with the recent bravado from Melikov and Baluyevsky, and coming as Russia is gearing up for a fresh round of protests, it's not difficult to see how Putin's decree raised a few red flags.
And the fear and anxiety that the guard is generating, just a year into its existence, is a big part of its power.
NOTE TO READERS:
Be sure to tune in to this week's Power Vertical Podcast on June 9, where I will discuss the issues raised in this post with Mark Galeotti and Aleksandr Golts.
di Brian Whitmore per "Radio Free Liberty"