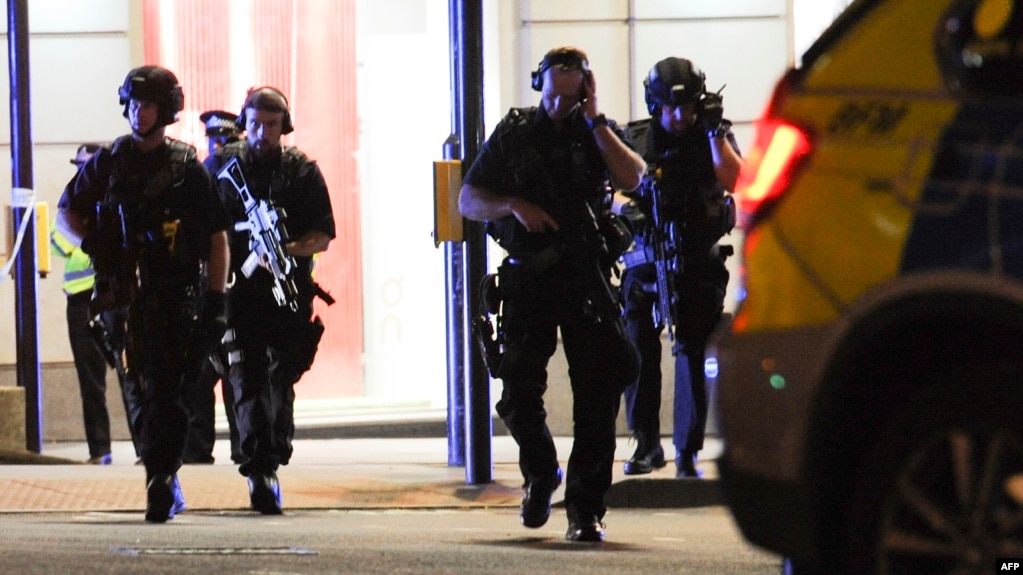 British authorities say six victims were killed and more than 30 were injured after attackers drove a van into pedestrians on London Bridge and then stabbed patrons at nearby restaurants in an incident being treated as terrorism.
Three male attackers were shot dead by police in nearby Borough Market some eight minutes after the start of the incident at around 10 p.m. local time on June 3, authorities said.
London Ambulance Service said on June 4 that it had taken 48 people to hospitals across the city after the attack, while a number of others were treated at the scene for minor injuries.
London Mayor Sadiq Khan said some of those injured were in "critical" condition.
Early on June 4, Mark Rowley, the Metropolitan Police counterterrorism head, said police believe there were just the three attackers but that the investigation is continuing into the "terrorist" act. Authorities said the attackers were wearing what appeared to be fake explosive vests.
No group has so far claimed responsibility for the terror attack – the third in Britain since late March following a similar attack on March 22 near Parliament on Westminster Bridge and a bombing at a pop concert in Manchester on May 22.
Authorities said the London Bridge incident started when the attackers drove a white van off the roadway and mowed down several pedestrians.
They then went to nearby Borough Market, where they stabbed several people in the popular area filled with restaurants and bars before being shot down by police.
BBC reporter Holly Jones, who was on London Bridge, said she saw a van "probably traveling at about 50 miles [80 kilometers] an hour."
"He swerved right round me and then hit about five or six people," Jones reported.
At Borough Market, witnesses said three men armed with knives stormed into bars and restaurants, stabbing people at random as patrons and staff fled or hid inside the establishments.
"They were stabbing people... We were shouting 'stop, stop' and people threw chairs at them," a chef at one restaurant told the dpa news agency. "Police came and shot [the attackers] straight away."
It was not immediately disclosed if the six people killed were pedestrians at the bridge or restaurant patrons at the market.
Prime Minister Theresa May described the event as a "dreadful" and "terrible incident." She and said would chair a meeting of the government's COBRA emergency committee later on June 4.
May's Conservative Party suspended its national campaigning ahead of the June 8 general election, a spokesman for the prime minister said.
Khan, London's mayor, called the attackers "evil cowards," and said London "will never be cowed."
"We will never let them win," he added.
Khan also said Londoners would see an increased police presence in the city and urged them to remain "calm and vigilant."
Police said that they were "reviewing and planning to strengthen our policing stance across London over the forthcoming days."
Britain has been under high alert after recent terror incidents and ahead of the June 8 general election.
On March 22, three people were killed and at least 29 were hurt when a driver struck pedestrians on Westminster Bridge near Parliament. The car then crashed into the fence around Parliament and the driver attacked an officer with a knife.
More recently, a suicide bomber killed 22 people at a music concert by U.S. pop singer Ariana Grande in Manchester on May 22.
World leaders offered support following the latest attack.
"In the face of this new tragedy, France is more than ever at Britain's side," French President Emmanuel Macron wrote in a tweet. "My thoughts go out to the victims and their loved ones."
German Chancellor Angela Merkel said her country stood "firm and resolute" by Britain's side in the fight against terrorism. "We are united in horror and grief, but also in determination," she said in a statement.
In a statement, U.S. President Donald Trump praised the "heroic response of police and other first responders and offered the full support of the United States government in investigating and bringing those responsible for these heinous acts to justice."
Earlier, Trump called in a tweet for a temporary travel ban on visitors from six predominantly Muslim countries to be implemented.
"We need to be smart, vigilant and tough. We need the courts to give us back our rights. We need the Travel Ban as an extra level of safety!" he wrote.
The Trump administration has asked the U.S. Supreme Court to review the legality of the president's executive order on the travel ban, which has been blocked by a series of court rulings.
With reporting by Sky News, BBC, Reuters, AP, and dpa