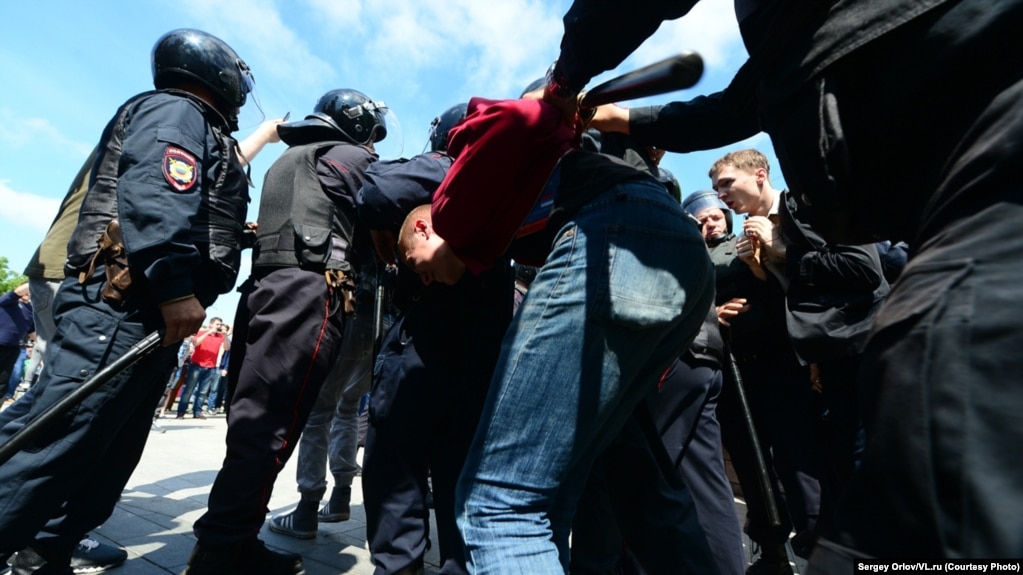 MOSCOW -- Riot police in Moscow and St. Petersburg have detained some 700 anticorruption protesters in Moscow and St. Petersburg, clamping down on unauthorized demonstrations organized by opposition politician Aleksei Navalny.
Police detained more than 400 people at the June 12 protest on Moscow's central Tverskaya Street, according to OVD-Info, which monitors police actions at protests. Officials in St. Petersburg reported that more than 300 people were detained there.
Navalny, an anticorruption activist and vocal Kremlin foe who is seeking to run for president in March 2018, was detained outside his home in an outlying Moscow neighborhood before he could get to the rally downtown.
Opposition politician Ilya Yashin and Maria Baronova, an activist with former oil tycoon Mikhail Khodorkovsky's Open Russia movement, were among those detained in Moscow.
Dozens of people were detained at some of the more than 200 similar demonstrations held in cities and towns nationwide on the Russia Day holiday. There were no reports of violence or injuries.
In Moscow, there was a heavy police presence in the city center after Navalny announced plans to protest on Tverskaya Street instead of a less central site that was proposed by the city government.
Police linked arms and batons and herded protesters together in an area far from the Kremlin as demonstrators periodically chanted slogans like, "Shame, shame," "Putin is a thief," and "Freedom for Navalny."
The Reuters news agency reported that pepper spray was used on the protesters in central Moscow, but that it was not immediately clear who sprayed the gas. A helicopter was flying overhead.
WATCH: Navalny Arrested Before Moscow Protest
Navalny, who has made waves with reports detailing allegations of corruption among senior allies of President Vladimir Putin, was detained by police outside his apartment building shortly before the scheduled start of the demonstration.
Police said he faced misdemeanor charges of violating rules on public demonstrations and resisting the police. If convicted, he could face up to 15 days in jail and a fine.
Sources at Navalny's Anticorruption Foundation (FBK) reported that electricity and Internet access at their offices were cut off before the demonstration started. Several FBK activists, including director Roman Rubanov, were detained at the Moscow protest.
The Moscow demonstration had been planned to be held at a city-approved location outside the center. But on June 11 Navalny urged supporters to march instead on the downtown thoroughfare of Tverskaya Street, near the Kremlin.
Navalny said authorities had pressured suppliers not to provide audio, video, or other equipment for the demonstration.
Moscow authorities said before the demonstration that citizens would be allowed to "stroll" on Tverskaya, which has been turned into a pedestrian zone for Russia Day, but that anyone carrying political signs or shouting slogans would be subject to arrest.
Because the protest was taking place together with the Russia Day celebrations, it was difficult to estimate the number of demonstrators.
Some of the demonstrators were seen holding toy rubber ducks, a reference to an allegation in one of Navalny's videos that Prime Minister Dmitry Medvedev controls a lavish vacation house with a pond and duck house.
"I'm completely sick of putting up with these authorities," 70-year-old Anatoly Kyurin told RFE/RL in Moscow. "I'd have been ashamed of myself if I didn't come."
In St. Petersburg, demonstrators inflated a large duck, which police quickly pulled down.
Navalny was hoping to build on momentum gained by a national anticorruption protest in March, which drew unexpectedly large crowds and ended with more than 1,000 people detained in Moscow alone.
Navalny was detained amid those demonstrations -- the biggest antigovernment rallies since a wave of protests that he helped lead in 2011-12 -- and served 15 days of administrative detention in jail.
According to the OVD-Info website, demonstrators and demonstration organizers were detained in several cities, including Nizhny Tagil, Lipetsk, Tula, Tambov, and Sochi. Thirty-six protesters were reportedly detained in the far western exclave of Kaliningrad.
In Russia's Far East, which is up to seven hours ahead of Moscow time, police detained several people participating in the anticorruption protests. At least four people were detained in Blagoveshchensk, including the organizer of the unauthorized protest there.
Local media reports said riot police scuffled with demonstrators and detained at least 20 people as a few hundred people protested in Vladivostok, which is seven hours ahead of Moscow.
Video footage showed helmeted officers with batons dragging two men or boys from a crowd of people while protesters shouted "Shame! Shame!"
"I'm here because of the corruption that is reaching huge proportions in Russia," said Aleksei Borisenko, a protester in Vladivostok who said he narrowly escaped police trying to detain him. "It's a dead end for the country's development."
"We have been silent, but we won't be anymore. We will make the authorities answer!" a woman at the Vladivostok protest shouted.
Sizable crowds turned out in the Siberian city of Novosibirsk and in Barnaul, capital of the Altai Krai region bordering Kazakhstan, and protests were held in other cities -- from Kazan in Tatarstan on the Volga River to the Pacific coast.
An unauthorized protest was also planned for St. Petersburg. Andrei Pivovarov, an organizer in the northern capital, posted on Facebook on June 12 that police had come to his residence and accused him of "organizing mass disorder." After he refused to open his door, police took up positions outside, Pivovarov said.
In Moscow, Tverskaya Street was turned into a pedestrian zone and the authorities have planned a celebration focusing on Russia's military glory. Photographs on social media showed the street blocked with sandbags, antitank emplacements, and vintage military equipment.
Navalny announced the location change less than 24 hours before the protest, accusing the authorities of pressuring providers of audio, video, and stage equipment not to work with demonstration organizers.
On June 12, an anonymous pro-Kremlin Twitter account posted a video purporting to show an empty stage and sound equipment at the originally approved protest site.
Russian state media reported that 1,000 people were protesting at the officially approved site and that police and National Guard troops were "providing security."
In his June 11 video, Navalny called on supporters to march peacefully and not to allow themselves to be caught up in provocations.
After Navalny announced the switch,
the Moscow prosecutor's office warned
that "any attempts to hold an unauthorized event on Tverskaya Street" would be illegal and "law enforcement organs will be forced to take all necessary measures" to maintain order.
In a separate statement issued hours before the planned march,
Moscow police warned
that "any provocative actions by protesters will be considered a threat to public order and immediately halted."
Kremlin spokesman Dmitry Peskov said the issue was a matter for city authorities, adding that it was "important to avoid any provocations or illegal actions."
Vladimir Chernikov, head of the city's regional security and anticorruption department, told Ekho Moskvy radio that citizens would be allowed to stroll on Tverskaya but would not be allowed to carry signs or shout slogans.
"If someone appears with a political sign or shouting slogans, then the chances are 100 percent he will be a potential client of the police," Chernikov said. "If a citizen is strolling peacefully and is demonstrating a spirit of solidarity with the majority of people who come out to mark Russia Day, everything will be calm and fine."
The demonstrations were being held to protest what Navalny says is a system of corruption and cronyism that President Vladimir Putin presides over.
Navalny, 41, is trying to get on the ballot for the presidential election next March in which Putin -- who has held power as president or prime minister since 1999 -- is widely expected to seek and secure a fourth term as president.
Navalny has been convicted three times in financial-crimes trials that he calls Kremlin-orchestrated retribution for his activism, though he has been handed suspended sentences rather than actual prison time.
Russian authorities have suggested that he could be barred from the presidential ballot due to his criminal record. But his backers say the rules are unclear, and Russian officials have not stated clearly whether he will be allowed to run.
A day before the planned June 12 protests, a video produced by Navalny and his supporters accusing Prime Minister Dmitry Medvedev of corruption was published on two government websites.
The video, which played a central role in galvanizing protesters for the March 26 demonstrations, was published briefly on the websites of the regional prosecutor's office in the central city of Yaroslavl and the St. Petersburg regional administration.
Yaroslavl prosecutors said they suspected their website was hacked.
With reporting by Tom Balmforth in Moscow, Current Time TV, Dozhd TV, Meduza, and RBK