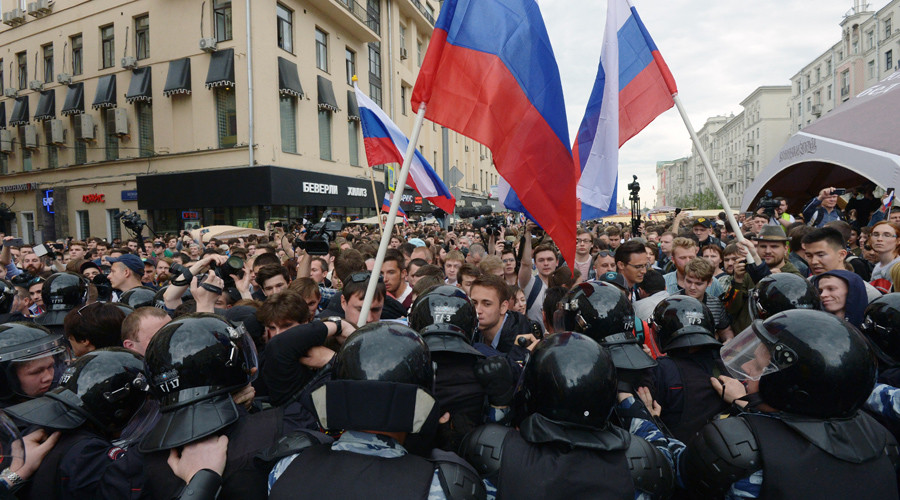 Opposition demonstrations have been held in major Russian cities, as the country marks its national day. The Moscow protest location was changed from the authorized Sakharova Street to an unauthorized location on the eve of the event.
12 June 2017

14:39 GMT

A police cordon at Pushkinskaya Square in Moscow is blocking people from going to Tverskaya Street. They are being asked to proceed either to the metro station or neighboring streets.

Police are urging people not to disrupt public order or break the law.

14:20 GMT

Several thousand people have taken part in authorized opposition rallies in the Urals region. The protests have been peaceful and with no incidents, local police say.

14:18 GMT


Young protesters hang out in

#

Tverskaya

coffee shop that's now frequented by bathroom-seeking riot police. Jokes fly both ways

#

DayOfRussia

13:53 GMT

A sanctioned opposition protest has finished in the central Russian city of Belgorod, TASS reports, citing regional police spokesman Aleksey Goncharuk.

"Ninety-five people attended the meeting, according to official information. As the organizers said, the event happened within the sanctioned bounds," the spokesman told TASS.

13:49 GMT

Opposition protests sanctioned by the authorities have ended in the cities of Surgut and Nizhnevartovsk in the Ural region.

"The events concluded without any incidents. No one was detained," police spokeswoman Olga Abmaykina told Interfax-Ural news agency.

13:41 GMT

The police are urging people to leave the site of the unsanctioned protest on Tverskaya Street in downtown Moscow and move towards Pushkinskaya Square.

13:29 GMT

13:23 GMT

RT correspondent Murad Gazdiev also reports from the ground that arrests were made at the site of the unsanctioned protest on Tverskaya Street.

Protest at historic fair contained. Police making arrests. Opposition chanting "shame". People urged to go to designated protest venue

13:15 GMT

The sanctioned opposition protest on Sakharova Street in Moscow concluded without incident,

according

to the Moscow police press service. Around 1,800 people participated in the event, according to police estimates.

"Police and National Guard maintained public order and safety, no serious violations of the public order were registered,"the police said.

13:08 GMT

A stage along with audio systems can be seen on Sakharova Street, where a protest is being held against planned mass renovation project in Moscow. On Sunday, Aleksey Navalny wrote that all the companies he had contacted to erect a stage with audio systems at the site of the opposition protest on Sakharova Street, which was sanctioned by the Moscow authorities, declined to do so. He cited this as a reason why he called for an unsanctioned protest on Tverskaya Street.