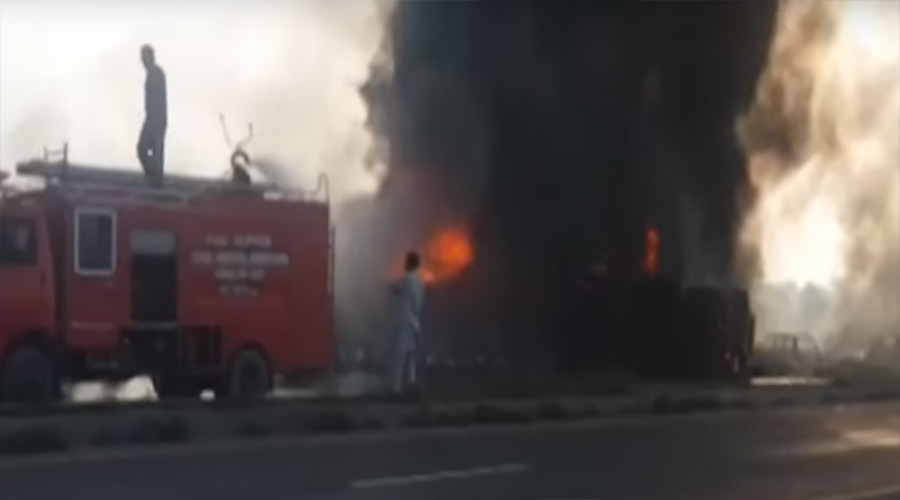 Over 100 people have burnt to death after an oil tanker overturned, spilling its payload onto a highway in the Pakistani city of Bahawalpur, local media report.
At least 123 people were killed according to Deputy Commissioner Rana Mohammad Saleem Abdul, as
cited
by Dawn.
At least another 100 people suffered severe burn wounds,
according
to the Express Tribune. They have been taken to two local hospitals in critical condition, Rescue 1122 Director General Dr. Rizwan Naseer told Geo TV Pakistan.
Army helicopters have been deployed to take the injured to hospital, according to Major General Asif Ghafoor, the official spokesperson of Pakistan's armed forces.
Army Aviation helicopters sent for evacuation of casualties to hospitals / burn centres. Hospitals placed on high alert. (2 of 2).
After the tanker overturned in the Pul Paka area near the National Highway, people in the vicinity rushed to the vehicle to collect fuel.
Some were smoking, which reportedly led to the ignition of the gasoline and caused the furious inferno, according to reports.
BREAKING: Rescue official says over 100 dead on Pakistan highway after oil tanker turns over, ignites fire
It has been reported that over 70 motorcycles and a number of cars were also been destroyed in the blaze.
Geo TV Pakistan reports that the fire is now under control.
COAS expresses grief on losses in oil tanker incident. Directed provision of full assistance to civil admn in rescue/relief effort (1 of 2).
Local news outlets report that the bodies have been burned beyond recognition. DNA tests will be required to identify the deceased.
بہاولپور آئل ٹینکر لیک ہوا

لوگ تیل اکھٹا کرنے آ گئے تو اچانک ٹینکر پھٹ گیا

123 افراد موقع پے جلس کر اللہ کو پیارے ہو گئے
Medical staff fear more deaths, as victims suffered burns to over 70 percent of their bodies.
Authorities are investigating the cause of the crash. Reports from the scene suggested the truck had been speeding, while Reuters reported it was trying to make a sharp turn when it flipped.
da "rt.com"