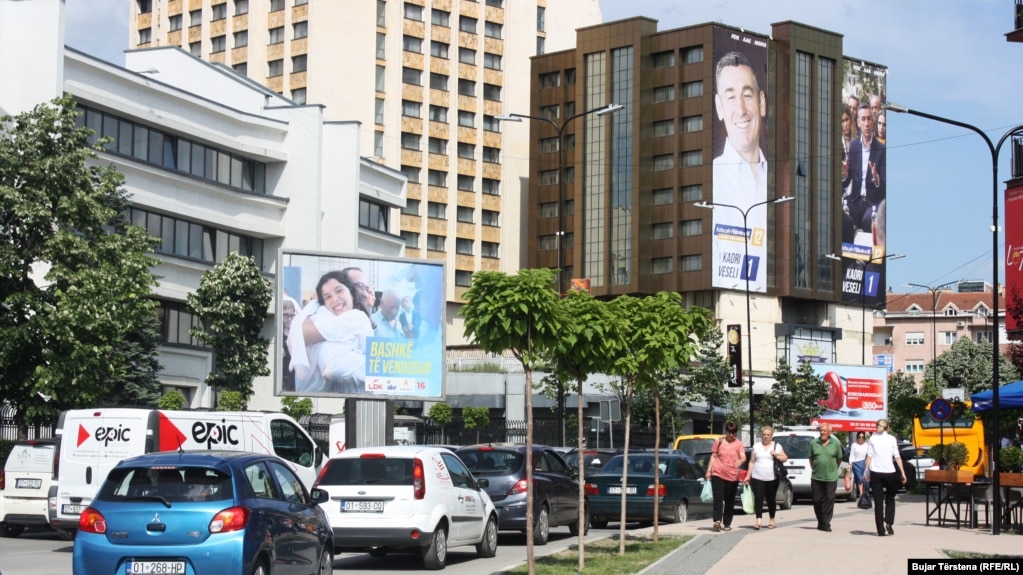 PRISTINA -- Amid months of political turmoil across the Balkans, Kosovo's parliamentary elections on June 11 are a chance for the country to confirm its path toward stability and deeper European integration.
The country's voters head to the polls for the third time since unilaterally declaring independence from Serbia in 2008, and a year earlier than planned after Prime Minister Isa Mustafa's government lost a no-confidence vote in parliament last month.
While there have been some rumblings of electoral dirty tricks, the campaign has been devoid of any major scandals or incidents, in a marked departure from other recent elections in the Balkans.
"Now is the time for the region to move forward, to seize the momentum and deliver a European future," Finance Minister Avdullah Hoti, a candidate for the Democratic League of Kosovo (LDK), said. "Kosovo can lead this transformation."
Same Old Politics In New Boxes?
When Mustafa's government collapsed, concern swelled that the kind of political upheaval that dotted the region -- fueled by nationalist sentiment that sparked fears of an outbreak of violence -- would engulf Kosovo, which as Europe's newest country has struggled to establish a stable democracy.
But political rivalries were quickly put aside -- if only for the moment -- as major parties banded together in coalitions.
President Hashim Thaci's Kosovo Democratic Party (PDK) joined forces with former Prime Minister Ramush Haradinaj's Alliance for the Future of Kosovo (AAK) and Fatmir Limaj's Initiative for Kosovo (NISM). Each has its foundation in the Kosovo Liberation Army (UCK) that fought a separatist war against Serbia in 1998-99.
On the other side, Mustafa's LDK and the New Kosovo Alliance (AKR) of Behgjet Pacolli have come together along with a new political group, Alternative, to form a coalition running in the vote.
While the coalitions comprise many of the same political players and may discourage some younger voters, their presence may aid forming a government afterward and help avoid the kind of six-month stalemate that followed 2014 elections as parties battled to form a government.
"Almost all of the political parties have a clear orientation and narration, just as in Western countries," said Burim Ramadani, direction of the Research Center for Security Policy.
To be sure, a smoother campaign trail doesn't mean the country won't face a bumpy road after the vote.
Jobs, health care, and education remain pressing issues for one of Europe's poorest countries, and a nation where about one-third of its 1.8 million citizens are under the age of 15.
"There's nothing new in the program of the candidates. I feel like we have been in the election campaign for quite some time now and that this is just the continuation," political analyst Imer Mushkolaj says. "We have to wait for the results and see how are they going to clear up their ideas on these issues."
Uncertainty Awaits
The early elections also derailed the process of ratifying the demarcation of Kosovo's border with Montenegro, which became a member of NATO earlier this month, a condition for Kosovo obtaining visa-free travel in the European Union.
With borderlines often the front lines of conflicts across the Balkans, the two countries had struggled to agree on a deal to finally define the frontier.
An accord was reached in 2015, but the result was unacceptable to the opposition, which felt Kosovo would lose about 82 square kilometers of valuable farmland even though an independent commission of experts ruled the area in question was legitimately part of Montenegro.
The issue sparked a no-confidence vote in parliament in May, which the government lost, triggering the early elections.
Kosovo's leaders and institutions "mustn't lose sight of great challenges Kosovo faces," EU Commissioner for Enlargement Johannes Hahn said after the fall of the government.
Kosovo analyst Ismail Hasani tells RFE/RL that that series of events was a step backward for a country that is already failing to address several important issues.
"Whoever takes power afterwards, whoever forms a government, they will have to deal with the harsh realities that lie ahead for the future leadership -- a special court for war crimes, the border demarcation with Montenegro, the creation of a Serb-majority community, the fight against the corruption, and other problems that have been waiting to be solved," Hasani says.
Kosovo remains the only Western Balkan country whose citizens still require visas to travel to the EU's passport-free Schengen area.
In the meantime, many Kosovars hope the mostly peaceful election campaign -- in recent days, EU and U.S. officials have expressed concern over reports of interference and intimidation of voters in some areas -- is a sign of things to come for their country.
"I hope we turn to peace, prosperity, to a better life. I hope the people who support these things will win the elections," says Sandra Milekovic from Mitrovica, in the northern part of the country.
With reporting by Rikard Jozwiak in Brussels