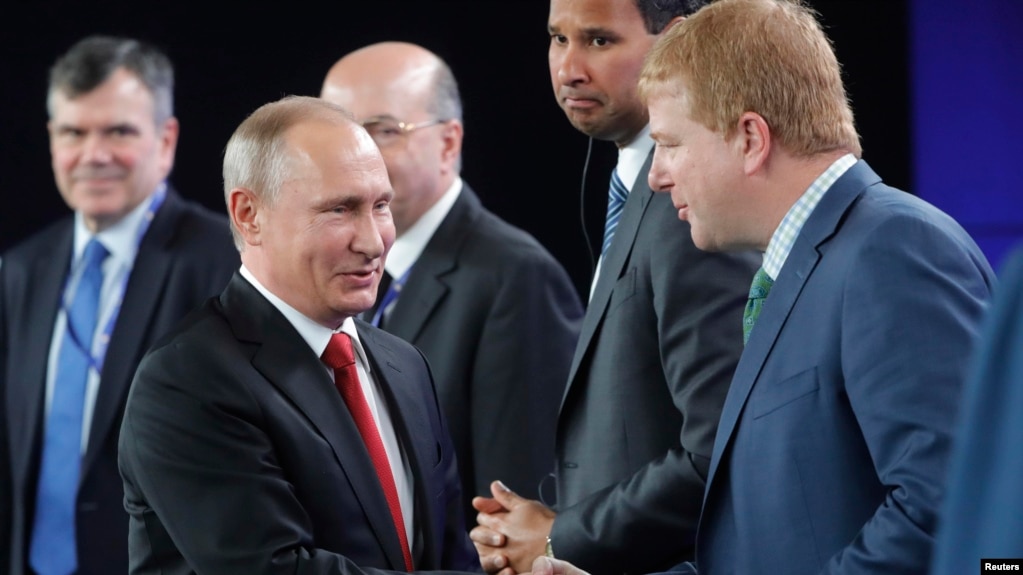 Russian President Vladimir Putin has urged U.S. business representatives to work with President Donald Trump's administration to improve relations between the two countries.
Speaking at an event called Business Dialogue Russia-USA on the sidelines of the annual St. Petersburg International Economic Forum on June 2, Putin asked the U.S. business leaders present to "help us restore a normal political dialogue."
He stated that Moscow was working to "normalize" bilateral relations, which reached a low ebb under former U.S. President Barack Obama over issues including Russia's 2014 seizure of the Ukrainian region of Crimea, Moscow's active support and backing of separatists in eastern Ukraine, and disagreements over the conflict in Syria.
Putin said that "solid trade and investment relations" between Russia and the United States formed a crucial "insurance net against the shifting political environment."
Putin added that Moscow supports joint projects between Russian and U.S. businesses.
"The United States has always remained a significant trading partner for us," Putin said.
Putin was scheduled to address the full St. Petersburg Economic Forum later on June 2.
Based on reporting by TASS, Interfax, and RIA Novosti