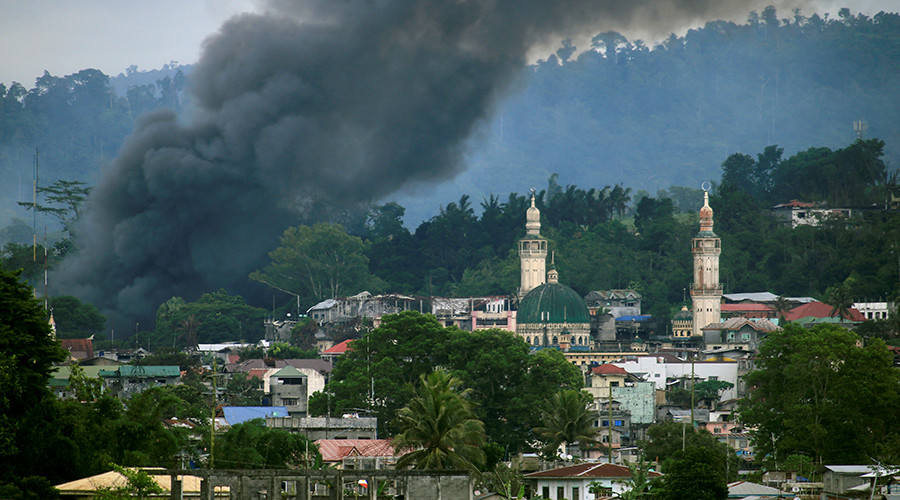 Several residents have reportedly been taken hostage and used as human shields after armed terrorists stormed a village in the Cotabato province of the Philippines, according to local police.
Government troops are now engaging members of the Bangsamoro Islamic Freedom Fighters (BIFF) after the terrorists partly overran the village of Malagakit, located just outside of Pigcawayan town, Chief Inspector Realan Mamon said.
Pigcawayan Mayor Eliseo Garsesa said about 200 armed men entered the Christian-Muslim village early Wednesday morning. Police earlier estimated that around 300 Islamist fighters raided the locality.
The police chief confirmed that the militants entered the village shortly after 5:00am on Wednesday.
"We can confirm that they occupied a school and there were civilians trapped. We are in the process of determining how many were trapped and their identities," Mamon said, according to Reuters.
The assailants, however, claimed that they did not take people hostage, but were merely protecting them from government troops. The BIFF group promised to release civilians.
"We protected them [hostages] from the bullets from Army. We will release them later. We did not use them as human shields," BIFF spokesman Abu Mama Misri told the Inquirer on the phone, without confirming the exact number of civilians being held.
The mayor revealed that authorities had received intelligence reports about text message chatter that the
"armed groups were coming."
Garsesa, however, said that such messages were common, and it could not always be verified, the Manila Times
reports
.
The militants are holding 12 hostages – six adult males and six children,
according
to the Manila Bulletin. The ongoing fighting resulted in the wounding of at least one auxiliary force soldier of the armed forces, known as CAFGU.
Government troops managed to push back the initial jihadist attack, but ISIS-linked fighters managed to take at least five people hostage as they retreated, according to a spokesperson for the Army's 6th Infantry Division.
"But as they (BIFF fighters) were escaping, they took some civilians hostage and [used them as] human shields,"
Capt. Arvin Encinas,
told
the Philippine Daily Inquirer.
So far, the Philippines Army has been unable to determine whether students and teachers were among the captives.
Mamon also could not confirm initial reports that students were being held hostage after the terrorists reportedly occupied a local school.
"We are still verifying that report,"
Mamon
told
the Inquirer by telephone.
The gunmen targeted an army outpost and a patrol base of a pro-government militia, before being repelled by army units, military spokesman Brigadier General Restituto Padilla said, according to the Sun Star. The raid, Padilla said, was aimed at disrupting the ongoing government offensive against the ISIS-linked Maute group.
"If this is a diversionary move, it's not the first by these BIFF gunmen,"
Padilla
said
.
"They have tried to attack more than once and all have been thwarted."
For almost a month now, the Philippines Army has been battling radical Islamist militants in Marawi, the capital of the country's second largest island, Mindanao.
Apart from the main Maute terrorist group, which has pledged allegiance to Islamic State (IS, formerly ISIS/ISIL), there are around 20 other foreign and local jihadist cells, including BIFF, operating in Mindanao, Solicitor General Jose Calida revealed on Monday.
"In addition to ISIS-linked local rebel groups, there are also ISIS cell groups that operate all over Mindanao. These cell groups conduct coordinated attacks with the aforesaid rebel groups,"
Calida
said
.
The death toll from the fighting in the Philippines has so far surpassed 300. According to official government figures, 225 militants, 59 soldiers, and 26 civilians have been killed in the clashes.
On Tuesday, President Rodrigo Duterte
warned
of a full-scale civil war if the ongoing violence spills into other parts of Mindanao. He urged the local separatist group, the Moro Islamic Liberation Front, which was recently offered some kind of autonomy, to
"take care of the area they want"
and join the fight against foreign-influenced Maute and other terrorist cells.
"Because if there's civil war, there would be killings. Here in Mindanao, there are more Christians and they have better guns. They are buying. The rich ones, they're stockpiling guns," Duterte said, according to the Inquirer. "That's what's dangerous. To prevent a communal war, we really need to stop this."
da "rt.com"