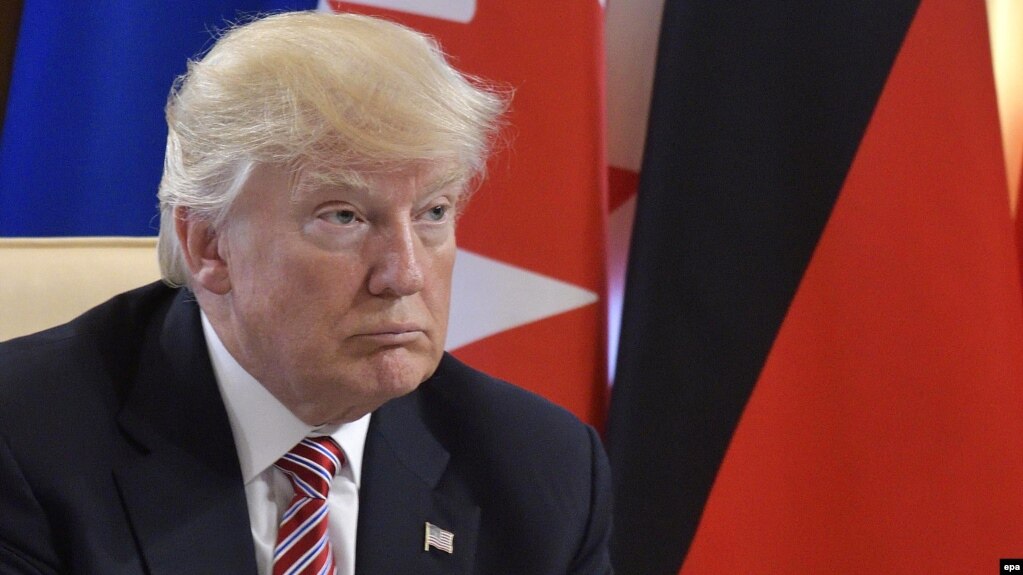 U.S. President Donald Trump will pull the United States out of the 2015 Paris climate agreement and seek a "better deal," according to White House documents seen by news media.
Trump's controversial decision, due to be announced at 1900 GMT on June 1, will make the United States one of only three countries -- along with Syria and Nicaragua -- to be outside the accord, which aims to cap greenhouse gas emissions in an effort to fight climate change.
According to the documents seen by the Associated Press, Reuters, and AFP, Trump will say the accord "front-loads costs on the American people" and is a detriment to the U.S. economy. Reuters reported that the document states Trump would seek a "better deal."
During his presidential campaign, Trump vowed to withdraw from the climate accord, saying it hurt U.S. economic interests and cost jobs.
Trump has faced pressure from leaders of allied countries and other nations.
A final communique issued on May 27 after a summit of the Group of Seven (G7) industrial countries in Sicily, said Britain, Canada, France, Germany, Italy, and Japan reaffirmed their "strong commitment"" to the implementation of the agreement.
However, the United States "is in the process of reviewing its policies on climate change and on the Paris agreement and, thus, is not in a position to join the consensus on these topics," it added.
Speaking in Berlin, Chinese Prime Minister Li Keqiang said that Beijing understood that the Paris accord "is a global consensus agreement and that as a big developing nation we should shoulder our international responsibility."
In Beijing, Chinese Foreign Ministry spokeswoman Hua Chunying suggested that China would work with the European Union to uphold the agreement if the United States pulled out.
"No matter whether other countries' positions may change, we will continue to uphold" a model of sustainable development, Hua said.
China is the top emitter of manmade carbon-dioxide emissions, and the United States is second.
Russian President Vladimir Putin's spokesman said that the deal will be less effective without "key participants" including the United states.
"President Putin signed this convention in Paris. Russia attaches great significance to it," spokesman Dmitry Peskov told a conference call with reporters.
"At the same time, it goes without saying that the effectiveness of this convention is likely to be reduced without its key participants," he said.
Global Pact
The pact is the first legally binding global deal to fight climate change. Virtually every country voluntarily committed to steps aimed at curbing global emissions of greenhouse gases.
The principle greenhouse gas is carbon dioxide, which is generated by power plants and cars burning oil, coal, and natural gas. Scientists believe the accumulation of carbon dioxide, methane, and other gases in the atmosphere is warming the planet.
The United States under former President Barack Obama's administration had committed to reduce its emissions by 26 to 28 percent from 2005 levels by 2025.
In Berlin, European Commission President Jean-Claude Juncker said on May 31 that European allies had tried hard to convince Trump to stay in the agreement at the Group of Seven (G7) summit last week.
He said withdrawing from the accord for the United States won't be easy and will take years. "The Americans can't just leave the climate protection agreement. Mr. Trump believes that because he doesn't know the details."
Juncker said leaders of the G7 members "tried to explain this in clear simple sentences to Mr. Trump," who attended the summit on May 26-27 in Italy, but "it looks like that attempt failed."
Word of a possible U.S. pullout from the agreement prompted expressions of criticism and derision in the European Parliament on May 31.
"Climate change is not a fairy tale. It is a tough reality which affects peoples' daily lives," European Parliament President Antonio Tajani said.
"People die or are obliged to leave their homes because of desertification, lack of water, exposure to disease, extreme weather conditions. If we don't act swiftly and boldly, the huge human and economic cost will continue to increase."
In anticipation of a U.S. withdrawal, European officials said China and the European Union will seek on June 2 to bolster the agreement by recommitting themselves to full implementation of the accord.
Business Pros And Cons
Trump, a former real-estate executive, also heard from business leaders who favor the agreement on May 31. The heads of dozens of major corporations, including ExxonMobil, Apple, Dow Chemical, Unilever, and Tesla, made appeals to stay with the accord.
Tesla's founder, Elon Musk, threatened to quit White House advisory councils the president asked him to join if Trump pulls out.
"I've done all I can to advise directly" to Trump and through others in the White House, Musk said.
But Robert Murray, CEO of Murray Energy Corp, an Ohio-based coal company and major Trump campaign donor, urged Trump to withdraw from the deal.
A pullout by the United States, the world's second-largest contributor to carbon emissions behind China, could have sweeping implications.
Mitt Romney, the 2012 Republican presidential nominee who Trump considered for secretary of state, said on Twitter that affirmation of the Paris agreement "is not only about the climate: It is also about America remaining the global leader."
The top Democrat in the U.S. House of Representatives, Nancy Pelosi, said a decision to withdraw would be "a stunning abdication of American leadership and a grave threat to our planet's future."
Pelosi said Trump would be "denying scientific truths, removing safeguards that protect our health and our environment, protecting polluters and...threatening our national and global security."
But Trump has insisted that the accord costs the U.S. economy trillions of dollars and thousands of jobs, while producing few tangible benefits.
With reporting by AP, AFP, and Reuters