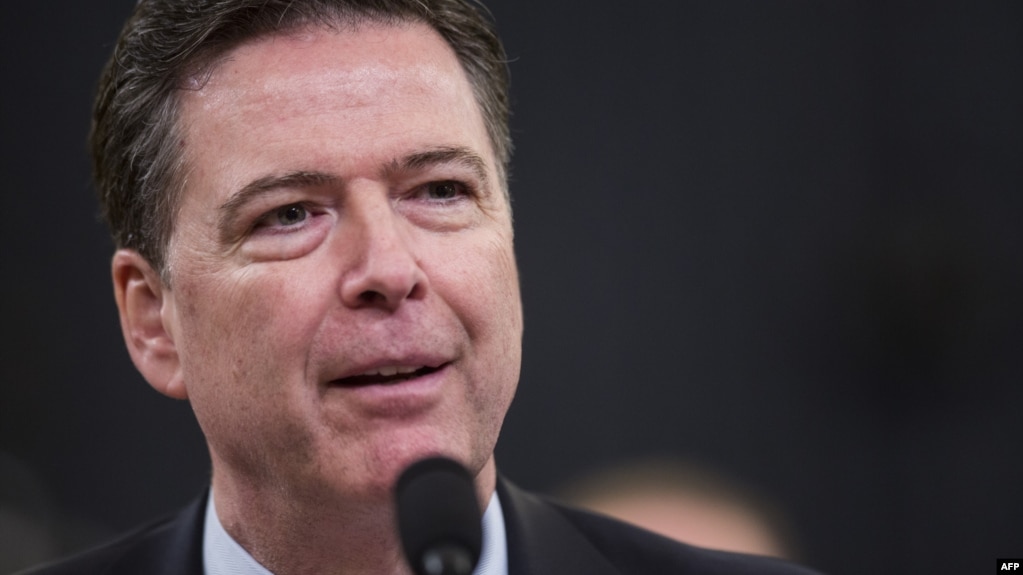 WASHINGTON -- Former FBI Director James Comey says President Donald Trump demanded loyalty and pressured him to drop the agency's criminal investigation into Trump's first national security adviser and his interactions with Russian officials.
The remarks corroborate in part several explosive news reports of recent weeks that suggest Trump sought to interfere in the FBI's investigation of Michael Flynn.
Flynn was fired less than a month into the job on February 13 after it emerged he had misled White House officials about his interactions with officials including Russia's ambassador to Washington.
In the written testimony, Comey said he and Trump had a private dinner together on January 27 and that during the meal Trump asked him if he wanted to remain on as FBI director. Comey was named to the post by Trump's predecessor, Barack Obama.
Comey said he replied that he wanted to serve out his 10-year term and "was not on anybody's side politically."
Comey said Trump told him at the dinner in January that "I need loyalty. I expect loyalty," and Comey replied that he could offer his honesty.
Trump then said he wanted "honest loyalty," and Comey said he told him: "You will get that from me."
During a February 14 White House meeting, Trump pressed Comey on the bureau's probe of Flynn.
"I hope you can see your way clear to letting this go, to letting Flynn go. He is a good guy," Comey quoted Trump as telling him.
"I had understood the president to be requesting that we drop any investigation of Flynn in connection with his false statements about his conversations with the Russian ambassador in December," Comey said in his written remarks.
Trump fired Comey on May 9, a move that roiled Washington and casts a further shadow over Trump's presidency, which had been dogged by suspicions about the interactions Trump associates had with Russian and other foreign officials.
In addition to the FBI probe, the Senate Intelligence Committee and at least one House committee are looking both at the nature of those interactions, as well as the U.S. intelligence community's conclusions that Russia interfered in the 2016 election campaign and sought to tilt it in favor of Trump.
In the written remarks, Comey said that Trump also pressured him to publicly announce that he was not personally under federal investigation. In a March 30 phone call, Trump asked Comey what could be done to "lift the cloud" over him, according to the testimony.
"I responded that we were investigating the [Russia] matter as quickly as we could, and that there would be great benefit, if we didn't find anything, to our having done the work well," Comey wrote. "He agreed, but then reemphasized the problems this was causing him."
di
Mike Eckel per "Radio Free Liberty"