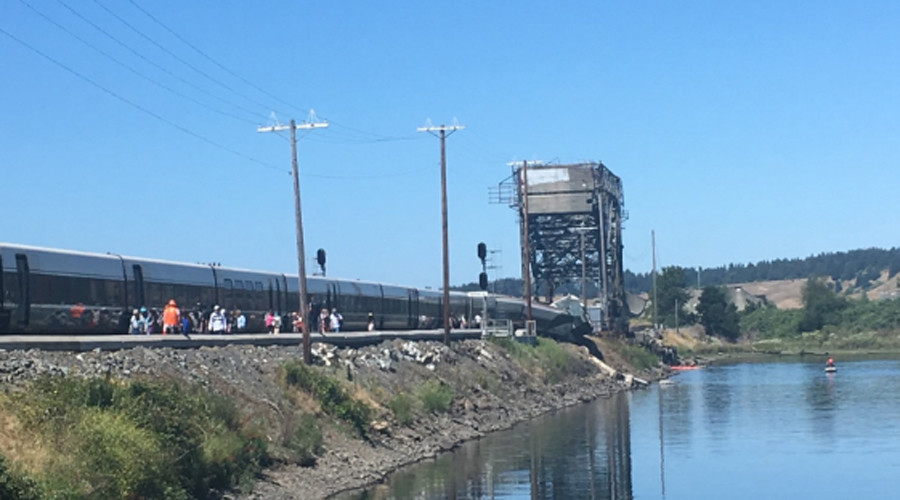 Four carriages of an Amtrak train derailed in the town of Steilacoom, Washington on Sunday as it was packed with 267 passengers. The incident has not resulted in any major injuries, police report.
The train was traveling near the Chambers Bay golf course, a venue of the 2015 US Open, when its first four cars derailed and flipped on their sides. Photos and videos of the incident posted on social media show the first car of the train hanging just above the water's surface.
Luckily no passengers landed in the water, the Pierce County Sheriff's Office reported on Twitter, adding that a number of those affected by the incident received minor injuries and were evacuated from the site of the crash.
The incident happened at around 2.30 pm local time. It is not clear so far what provoked the derailment.
It was feared that fuel leaking from the train could contaminate the waters.
Boom is in near Steilacoom marina area to protect against any spill from Amtrak train derailment.
The Gig Harbor Police Department reported on Twitter it has sent a patrol boat to set up pollution control barriers to prevent the spill from spreading.
#

GigHarbor

PD patrol boat assisting with deploying pollution control booms at train derailment.
Steilacoom, home to about 6,000 residents, is located some 40 miles south of Seattle.
da "rt.com"