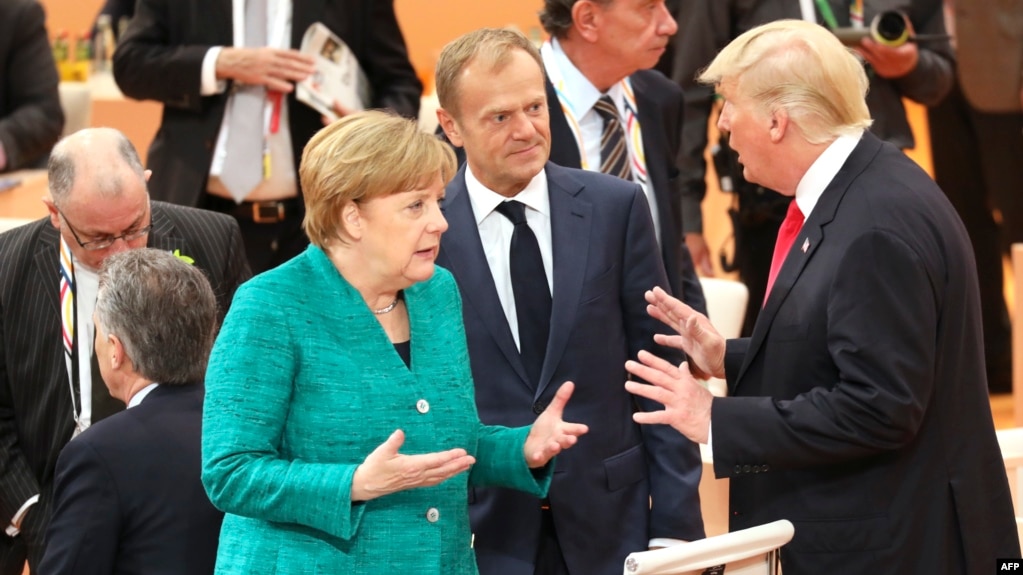 HAMBURG, Germany -- World leaders have reached a "breakthrough" on a draft communique of the Group of 20 (G20) summit in Hamburg, Germany, but the section on climate change remains disputed on the second day of talks, a European Union official close to the negotiations tells RFE/RL.
Aides worked until 2 a.m. on the G20 summit's joint statement before reaching consensus to include language on "fighting protectionism," which Washington had been reluctant to agree to, the official said.
But the official said disagreements remained about language on climate change that would have to be resolved in negotiations on July 8, the second and final day of the summit.
The negotiations followed another night of violent riots near the venue -- clashes between antiglobalization activists and police that have overshadowed the summit of leaders of the world's major industrialized and emerging economies.
Those attending include U.S. President Donald Trump, Russian President Vladimir Putin, and Chinese President Xi Jinping as well as European and Asian leaders.
The summit's host, German Chancellor Angela Merkel, said the negotiators "still have a great deal of work ahead of them" to formulate the summit's closing communique that is planned for later on July 8.
Merkel told leaders at the summit that they must be prepared to make compromises as she worked toward a summit communique that everyone present could accept.
References to fighting protectionism used to be routine in G20 communiques. But Trump's "America First" trade policy has hampered consensus on globalization and trade since he took office in January.
The EU official told RFE/RL that Washington agreed to language supporting efforts against protectionism if the section also included the phrase "reciprocal and mutually advantageous trade," which the U.S. side had wanted.
The section on climate change, however, remained the subject of disagreement as leaders went into negotiations early on July 8.
The United States is demanding a line saying it will make efforts to "work closely with other countries to help them access and use fossil fuels more cleanly and efficiently and help them deploy renewables and other clean energy sources," the official said.
European leaders do not take a positive view on the language, which was set to be negotiated during July 8 talks, the official added.
Reuters and other news agencies also quoted EU officials as saying that the communique's language on climate was still an issue to resolve, and that Washington was demanding a reference to fossil fuels in the final statement.
One EU official said there was a "critical mass of countries" that object to including the reference to fossil fuels in the G20 communique, Reuters reported.
The standoff on that issue came as world leaders this week stepped up pressure on Trump in the wake of his announcement that the United States would withdraw from the 2015 Paris climate agreement.
"We are not renegotiating the Paris agreement -- that stays. But I want to see the U.S. looking for ways to rejoin it," British Prime Minister Theresa May told the BBC.
WATCH: Protests At G20 Summit Continue In Hamburg
​
As leaders gathered for the start of the final day of talks, a German government official told RFE/RL that Merkel, Putin, and French President Emmanuel Macron had agreed during a working breakfast that a cease-fire deal for eastern Ukraine known as the Minsk peace accords must be implemented.
Putin met on July 8 with Turkish President Recep Tayyip Erdogan and was sheduled to have talks with European Commission President Jean-Claude Juncker.
The first day of the Hamburg meeting was overshadowed by rioting and vandalism by small factions of radicals among an estimated 100,000 antiglobalization protesters who took to the streets of Hamburg.
As Trump and Putin met for more than two hours on the sidelines of the summit on July 7, smoke hovered over the city from dozens of torched cars and barricades that were set on fire by demonstrators outside.
WATCH: Trump, Putin Hold Extensive First Talks On Sidelines Of G20
After a day of burning, looting, and other havoc by radical protesters -- including members of the anticapitalist Black Bloc movement -- police managed to clear the streets of downtown Hamburg by the early morning of July 8 using armored vehicles, water cannons, and tear gas.
Authorities said more than 200 police had been injured in the violence in recent days and more than 200 demonstrators had been detained.
Despite the unrest on the streets, Trump praised Merkel's handling of the summit in comments at the start of the second day, saying the German chancellor had "been amazing and done an incredible job."
"Your leadership is absolutely incredible and very inspiring," Trump said.
Trump has previously appeared to have tense relations with Merkel and has slammed the U.S. trade gap with Germany and Berlin's military spending relative to its gross domestic product, criticism that has angered the German political establishment.
With reporting by Reuters, AP, AFP, dpa, TASS, and Interfax