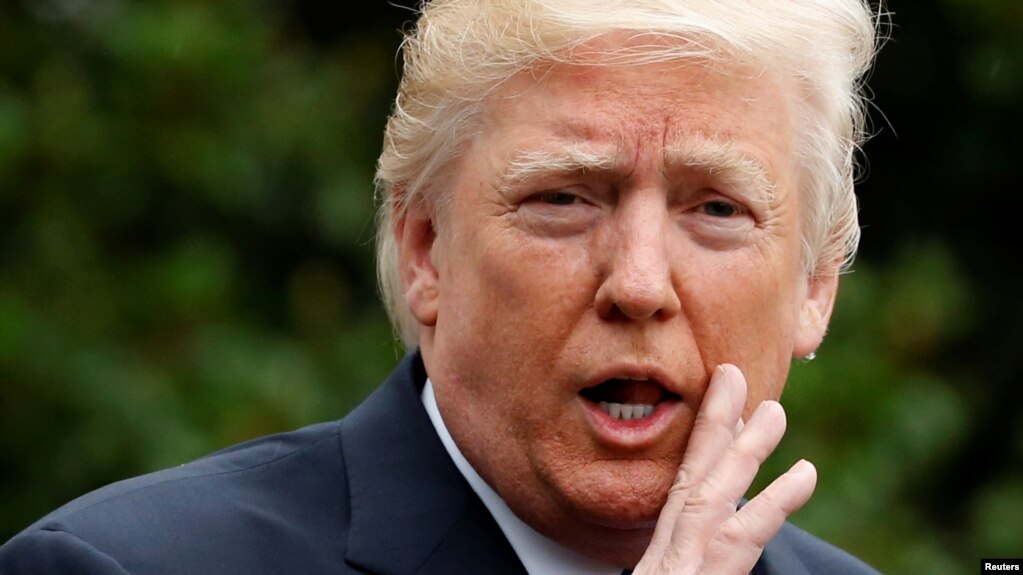 The United States made a conciliatory gesture toward Russia as President Donald Trump arrived on his second visit to Europe on July 6, offering to cooperate in Syria.
Trump will meet with Russian President Vladimir Putin for the first time on July 7 at a Group of 20 (G20) summit in Hamburg, Germany, after a day of events in Poland, and the Syrian conflict is expected to be high on the agenda.
But before that meeting, Trump will give a televised address in Poland, where he will be attending a "Three Seas" summit and is expected to promote U.S. exports of natural gas to Eastern European nations wary of dependence on Russian energy.
Poland's populist leaders have expressed support for Trump's policies and his view of the world, from anti-immigrant themes to an apparent weakening of support for international organizations.

That will likely lead to scenes of cheering crowds along the streets of Warsaw, where the ruling party has promised to bus in pro-government activists to hear Trump's televised address at 1:10 p.m. local time on July 6 from historic Krasinski Square, according to the Associated Press.

Still, Polish leaders -- like many others across Europe -- will be eager to hear the U.S. president renew his country's commitment to NATO and to the alliance's Article 5, the provision that states an attack on one NATO country is an attack on all.
Poland's proximity to Russia has heightened its fears of Moscow's intentions in the region, especially after Russia's illegal annexation of Ukraine's Crimea region, its support of separatists in eastern Ukraine, and alleged interference in the election process of the United States and some of its European allies.

In his first trip to Europe in May, Trump shocked many NATO members when he failed to mention Article 5 and instead berated allies for a lack of spending on their defense, claiming the United States shouldered an unfair burden of the costs.
WATCH: Trump To Promote U.S. Gas During Warsaw Visit
H.R. McMaster, Trump's national security adviser, last week told reporters that the president will use his Warsaw speech to reiterate the U.S. commitment to the Western alliance.

"He will lay out a vision not only for America's future relationship with Europe, but the future of our transatlantic alliance, and what that means for American security and American prosperity," McMaster said.

While in the Polish capital, Trump will also hold meetings with leaders of Central and Eastern European countries during the Three Seas summit that seeks to heighten cooperation on energy and politics between countries that border the Adriatic Sea, the Baltic Sea, and the Black Sea.

Trump will then journey to Hamburg for the July 7-8 summit of the leaders to the 20 top economies and conduct his first personal meeting with Putin, where they likely will discuss the U.S. proposal to cooperate on creating no-fly zones in Syria.
Trump also will hold one-on-one talks with British Prime Minister Theresa May in Hamburg on July 7, May's office announced.
After receiving a warm welcome in Warsaw, the U.S. president is likely to receive a more skeptical response in Hamburg, both from leaders and potentially from demonstrators on the streets of the northern German city.

Some 20,000 police will guard the G20 chiefs and officials from the United Nations, International Monetary Fund, World Bank, and other organizations.
Hamburg police clashed with demonstrators on the night of July 5 ahead of the meetings, using water cannons to disperse some protesters but had restored calm by daylight. Germany has said as many as 8,000 potentially violent demonstrators could come to the event.

Trump will likely face tough questions from European leaders over his decision to pull out of the Paris climate accord, his perceived lack of support for NATO and the European Union, and his commitment to Ukraine's sovereignty in the backdrop of his desire to improve relations with Russia and his praise for Putin personally.

Tough talks on free-trade issues and immigration are also expected.

Trump's session with Putin has been upgraded from a so-called "pull-aside" session with the Russian leader to an official "bilateral" meeting. It will be Trump's first opportunity to bring up Russia's meddling in the U.S. presidential election, if he so chooses.

Many U.S. intelligence agencies have concluded that Russia, most likely under Putin's orders, interfered in the presidential campaign to boost Trump's chances of winning and to damage Democratic rival Hillary Clinton. The Kremlin rejects the allegation.

Western allies will also expect Trump to push Putin on Russia's interference in Ukraine, which has led to a war that has killed more than 10,000 people.

Trump will also look to push Russia -- and, more importantly perhaps, China -- to put more pressure on North Korea to halt its nuclear and ballistic-missile programs.

Trump has expressed disappointment that China has not done more to rein in its North Korean ally, which on July 3 tested its first intercontinental ballistic missile and said it is looking to develop nuclear weapons capable of reaching the United States.

Closely watched also will be Trump's relationship with German Chancellor Angela Merkel. The two so far have what has been perceived as awkward moments during talks in Washington and during Trump's previous trip to Europe.

Merkel has spoken in recent days about "obvious" disagreements with the United States and her ruling Christian Democratic Union (CDU) recently dropped the term "friend" in describing Germany's relationship with its longtime ally.
With reporting by AP, Reuters, CNN, dpa, CNBC, and The Wall Street Journal